mytest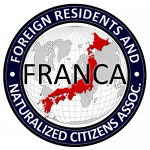 UPDATES ON TWITTER: arudoudebito
Hi Blog.  I've been following another case of child abduction to Japan, that of Paul Toland, US Navy Commander, who lost his daughter Erika to an international divorce with a Japanese and abduction seven years ago. Then when his ex-wife died two years ago, custody went not to the only surviving parent in existence, but to the Japanese mother-in-law!  Background follows, but Toland has been pushing on both sides of the Pacific for reforms, and he just might succeed.  Keep an eye on this one. Arudou Debito in Sapporo
More on the Toland Case case here:
http://www.crnjapan.net/The_Japan_Childrens_Rights_Network/res-crn-av.html
(page down to Radio Interviews)
CNN:

Download that report in mp4 format here:
https://www.debito.org/video/CNN093009.mp4
Background to the case, according to his Facebook entry (which has nearly 800 members, join if you like), courtesy:
http://www.facebook.com/group.php?gid=98937667971&ref=ts
On July 13th 2003, Erika Toland was abducted from her home at Negishi Navy Family Housing in Yokohama, Japan. She was abducted by her mother, Etsuko Toland, who subsequently died on October 31st, 2007. Since the death of her mother, Erika has been held by her maternal Grandmother, Akiko Futagi. For six long years her father, Commander Paul Toland, US Navy, has been trying to see his daughter Erika, but to no avail. Erika is held in Japan, a haven for international child abduction. Japan is the only G7 country that is not a signatory to the Hague Convention on the Civil Aspects of International Child Abduction. The United States Department of State is not aware of any case in which a child taken by one parent has been ordered returned to the United States by Japanese courts, even when the left-behind parent has a United States custody decree.




You can see Erika's abduction discussed on the Floor of the United States House of Representatives at
http://www.c-spanarchives.org/congress/?q=node/77531&id=9005768and see Paul discussing Erika's case on CNN at http://www.cnn.com/video/#/video/bestoftv/2009/09/29/cb.dad.behind.bars.cnn?



On March 11, 2009, the United States House of Representatives unanimously passed House Resolution 125 by a vote of 418-0. This Resolution condemned Japan for its actions on International Child Abduction and called on Japan to sign the Hague Convention. This Congressional resolution described Japan as "a United States ally which does not recognize intra-familial child abduction as a crime, and though its family laws do not discriminate by nationality, Japanese courts give no recognition to the parental rights of the non-Japanese parent, fail to enforce United States court orders relating to child custody or visitation, and place no effective obligation on the Japanese parent to allow parental visits for their child."




On May 21, 2009, the United States, the United Kingdom, France and Canada released a joint press statement condemning Japan for it's actions on International Child Abduction, and calling on Japan to sign the Hague Convention. These four nations together with one voice stated that "the left-behind parents of children abducted to or from Japan have little realistic hope of having their children returned and encounter great difficulties in obtaining access to their children and exercising their parental rights and responsibilities." These countries urged Japan "to identify and implement measures to enable parents who are separated from their children to maintain contact with them and to visit them," and described the "failure to develop tangible solutions to most cases of parental child abduction in Japan particularly troubling."




Nothing in this world is more important than a parent's love for their child. Equally important is a society's responsibility to allow a child to love and know both of their parents. This is where Japan has failed.




Today, Erika remains separated from her father, with no means of return. Her father has spent his life savings trying to return her, but Japan does not even recognize parental or intrafamilial child abduction as a crime, so the situation remains grim. Please join us in continuing to press the US Government for the return of our children from Japan.
Most recent message to the members of Facebook HELP BRING ERIKA TOLAND HOME. (http://www.facebook.com/group.php?gid=98937667971&ref=ts)
——————–
Subject: Update to Erika's Case, October 14, 2009
Friends,
I want to thank you all again for your continued support.  Your support, comments, thoughts and prayers give me strength and keep me going over here thousands of miles away from home.
Yesterday was a productive day.  I attended a working group at the Japanese Diet (Parliament) on reforming family law in Japan.  The last time this group met was in July, before the Japanese elections which swept a new party into power, and before the case of Christopher Savoie.  The working group was covered by CNN, NBC and others.  I had been told that in the past, there were usually one or two diet members at this working group, but yesterday there were 23 diet members present, far more than at any of the past working groups.  Many left behind parents attended, mostly Japanese, although American parents Steve Christie and Paul Wong were also in attendance.  Steve and Paul deserve a lot of credit.  They live here in Japan and spend countless hours lobbying Japanese diet members on our cause, and when they find a sympathetic member, they then contact the Embassy to put US officials in contact with that diet member.  They are doing great work and deserve
much credit.
Anyway, back to the Diet session.  I did have the opportunity to get up in front of the diet members and discuss Erika's case.  I stressed that the most important thing in reforming family law in Japan was enforcement.  Japan has no enforcement of their family law, and that is really at the root of the problem.  Any legal system without enforcement is powerless, and the laws of that system are therefore nothing more than worthless shreds of paper.  I explained to them that officials from the US Embassy asked to visit Erika and were told "no" by the Grandmother, and even officials from Japan's Ministry of Foreign Affairs asked to visit Erika and were told "No" by the Grandmother, and all anyone could say to me is "sorry, we tried."  This is the end result of a legal system without enforcement.  It amounts to nothing more than anarchy.
I also stressed urgency.  This working group has been meeting for two years now, and this was their 12th meeting, yet no legislation has been proposed in Japan to reform family law.  I explained that while they meet and have discussions, our children grow older every day, and we continue to miss out on their lives, and children like Erika miss out on the opportunity to be reunited with loving parents.  I also explained to them that I was going to Erika's house this coming weekend to bring her birthday presents for her seventh birthday.
My presentation to the diet members was met with considerable interest, and they had numerous questions for me, so I hope this  effort at least bears some fruit.
I also had a three-hour interview yesterday with a reporter from the Yomiuri Shimbun, the largest newspaper in Japan.  This is my first time talking to the Japanese language press in depth.  The reporter seemed genuinely sympathetic, but I have seen how the Japanese press has reported on this issue in the past, and have been generally disappointed with the results.  The reporter told me that they try to "balance" the issue.  However, none of the abducting spouses ever grant press interviews, so I think that speaks for itself.
An article came out today in ABC news, and while the article was good, I read over the comments posted by readers, and realize that many Japanese are posting comments attacking this issue.  These readers are not very well informed about the nature of Japanese family law (or maybe they are well informed, but they are simply against any reform to Japanese law).  I ask that you all go to the article at http://www.facebook.com/l/f2bfe;abcnews.go.com/International/fighting-custody-abducted-children-japan/comments?type=story&id=8817579 and post your own informed comments.
I am prepared for attacks from those who do not want family law reform in Japan, and I even welcome these attacks.  When a cause is just, there is no need to fear. Ghandi said, "First they ingore you, then they laugh at you, then they fight you, then…you win."  This issue has been ignored and laughed at for years, but now those who are against this can no longer ignore us, so they are attacking us.  That is a good thing, because it only means that we are closer to real change.
Tomorrow, I plan to guest lecture two classes at Waseda University.  Congressman Smith will hopefully be here by the weekend.  I will write again soon.  Thank you all again.  Sincerely,  Paul
——————–
To reply to this message, follow the link below:
http://www.facebook.com/n/?inbox/readmessage.php&t=187044323708&mid=13f79f5G23e55442G2f9572dG0