mytest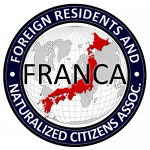 UPDATES ON TWITTER: arudoudebito
BY POPULAR DEMAND, TOKYO INTERNATIONAL PLAYERS PRESENTS A SECOND PRODUCTION OF "HONIEFAITH"
Written and directed by Monty DiPietro
With:
Percival Florendo Bugayong as Victor Balmori
Arlene Dinglasan as Cora Diaz
Elena Yankova as Nadya Karsavina
Ken Suzuki as Inspector Yutaro Mukaide
Ken-Stephano Medrano Endo as Daisuke Sakamoto
Jun Takahashi as Sakamoto Sr.
http://www.facebook.com/event.php?eid=157036074791
When a Filipino hostess' dismembered body is discovered in a Tokyo coin locker, Manila newspaper reporter Victor Balmori is dispatched to Japan. Balmori is looking for a story, he finds a nightmare.
NB from DEBITO:  More about the Honiefaith case here.
Written by Monty DiPietro, "Honiefaith" is a three-act play based on real events. The premiere of "Honiefaith" opened Tokyo International Players' "Second Stage" series in June, playing to full houses at a 'black box' theater in Hatagaya. The November production is being directed by the author, and features Filipino television and film actor Percival Florendo Bugayong in the lead role. The play is in English, and runs about two hours with intermission.
November 6-7-8, 2009 at Our Space Theater:
Fri. Nov. 6 – 7:00 pm
Sat. Nov. 7 – 2:00 pm
Sat. Nov. 7 – 7:00 pm
Sun. Nov. 8 – 2:00 pm
Sun. Nov. 8 – 7:00 pm
Our Space is located off the north side of Koshu Kaido street, a three-minute walk from Hatagaya Station, or a five-minute taxi from Shinjuku Station's south exit.
Our Space
Toei Shopping Center 101
Hatagaya 2-1-1 #101
Shibuya-ku
Map: http://www.tokyoplayers.org/?lang=1&page=16
Our Space has a limited capacity, and so reservations are strongly recommended. (Advance ticket sales for the June production were so strong that the box office closed a week before opening night. So be sure and buy your tickets early.)
Tickets and information:
http://www.tokyoplayers.org/?lang=1&page=58&mode=detail&event=28
Prepaid tickets cost 2,000, available at Our Space, or through the TIP website (200 yen PayPal service charge applies).
Reserved tickets / Pay at the door are 2,200 yen.
Admission price includes one drink.
Some scenes in "Honiefaith" may not be suitable for small children.
FLYER:
ENDS