mytest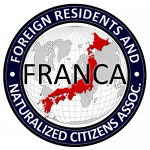 UPDATES ON TWITTER: arudoudebito
DEBITO.ORG PODCASTS now on iTunes, subscribe free
Hi Blog.  As a Sunday Tangent, let me express some long-overdue dissatisfaction with an organization that I gave a presentation to quite some time ago.
The Osaka-based Japan Law Society (AKA Kansai Attorneys Registered Abroad) invited me to speak for them on September 4, 2008.   I did just that.  According to their website: http://www.gaiben.jp/jls/cle/s
I spent a number of days on my powerpoint (see it here) and my handout (see it here), staying a couple of days in an Osaka dive hotel at my own expense working on it.  I tried to make a seminar worthy of overseas educational credit (which is what their Continuing Legal Education program is about, see FOOTNOTE below; I have emails indicating that they applied for it, and they had me fill out an application for it).  Thus I believe people would pay money for this class if it were offered overseas.
But after I gave the presentation, I was paid not a sou.  This was not made suitably clear to me in advance, and when I inquired about this situation last month, this is the exchange we had.  I sent:
2009/10/29 Arudou Debito wrote:
To jls@gaiben.jp
Tokyo Coordinator Ms. Akane Yoshida Licensed in New York
Legal Department Kao Corporation
Tel: 03-3660-7049 Fax: 03-3660-7942 tokyo@gaiben.jp
Email: yoshida.akane@kao.co.jp

CLE Coordinator
Mr. S. McIntire ALLEN (源 眞久)
California Bar License #210750 & New York Bar License #2785913 Not licensed in Japan
phone +81-(0)50-5806-8816 or +1 (310) 929-7256 facsimile: +81-(0)6-6131-6347 mobile: +81-(0)90-5469-7675
voice/video: minamoto@gaiben.jp Skype gaikokubengoshi
cle@gaiben.jp mobile@mcintire.jp
www.mcintire.jp

To Whom it May Concern

My name is Arudou Debito, and I spoke for the CLE on September 4, 2008 on "Non-Japanese Residents and the Japanese Legal System: Cognitive Dissonances to Consider". Record is on your website at
http://www.gaiben.jp/jls/cle/s

I apologize for the lateness of this letter, but I have been checking over my records recently, and I have yet to receive payment for costs (transportation, accommodation) or for speaking honorarium for this occasion.

Please contact me at your earliest convenience how much we have outstanding, and I will send you remittance details.

Thanks very much for your attention.
Arudou Debito in Sapporo
(debito@debito.org)
===============================
Their response:
From: "S. McIntire ALLEN"
Date: October 29, 2009 5:46:36 PM JST
To: Arudou Debito
Cc: yoshida.akane@kao.co.jp, tokyo@gaiben.jp
Subject: Re: To Japan Law Society: Some unfinished business from September 2008, from Arudou Debito

David:

From the very beginning we explained more than once that there was no honorarium, and you acknowledged that in a phone conversation with me when asking me about where to find inexpensive accommodations. I told you we are a volunteer organization, and you were our second speaker ever, and we had a negative balance in the accounts. I don't know where you got this idea that we would reimburse you for travel.

As a consequence of you bad mouthing us on your home page, we do have a questionnaire now that enables us to have a record of the speakers acknowledgement that there will be no payment: http://www.gaiben.jp/jls/cle/spkr.

Regards,
McIntire

S. McIntire ALLEN (源 眞久)
California Bar License #210750 & New York Bar License #2785913 Not licensed in Japan
www.mcintire.jp
Sent from Osaka, 27, Japan
More fool me, you might say, for accepting this invitation. But quite honestly, I have never given a speech in Japan where there was no remuneration whatsoever. Even those organizations who said it was "volunteer" paid me 5000 yen in travel expenses without telling me in advance.  It's common practice in this society.  It's what professionals do.
Moreover, lawyers are not a profession short of money.  Quite a few people attended the presentation (it was even video simulcast), and when I told a couple of them (including Japan Times reporter Eric Johnston, who also attended) I never got paid, they were quite shocked.  Even they said that it would have not put them out to chip in something like 1000 yen as an entry fee.
The biggest irony here is that we're talking about lawyers.  They're quite willing to sell their services to the highest bidder.  But it appears that some of them aren't willing to pay for the services that will further the interests of their organization, and their own professional and educational experience and credentials.
Mr Allen even contacted me for research purposes on July 10, 2009, and about a separate legal matter on July 12, 2009 (which I will keep confidential), despite all this.  I declined to answer.
I guess the lesson to be learned here is that when the Japan Law Society invites you as a speaker and then says it will not pay you, take it seriously.  It won't.  But that's in my opinion quite unprofessional and deserves to be known about.  Professionals who want related professional assistance should be willing to compensate the provider for the service.  That's how the system works when professionals are involved.
Arudou Debito in Sapporo
=================================
FOOTNOTE about CLE credit being applied for via using volunteer professional help:
From:  http://www.gaiben.jp/jls/cle
JLS presents low-cost CLEs connected by video teleconference between Osaka and Tokyo. The CLEs permit Japan practitioners to exchange experiences in an informal setting.
Credit
JLS is an 
approved
Multiple Provider under the auspices of the 
California Bar Association
. Please check with your jurisdiction to see if they accept credit for CLEs approved by California, or the California 
Multiple Provider Rules
. If you are licensed in a jurisdiction other than California, and you have information about your jurisdiction's CLE recognition, or lack of recognition, of California CLE credits, please send that information to the CLE Coordinator so we can post the information on the 
Accreditation
page so that other JLS members may easily find the information. Please indicate the source for your information.
California calculates credit based on 60 minutes of class time per hour.  Some jurisdictions, such as New York, accept 50 minutes of class time to qualify for one credit hour.  For instance, a two hour JLS CLE could be worth 2.4 hours of CLE credit in a 50 minute jurisdiction.  California attorneys participating in Japan in a CLE accredited by a 50 minute jurisdiction are permitted to claim a 50 minute hour of instruction as one hour of credit.  However, JLS CLEs are accredited by the Bar of California, so all credit hours must have one hour of instruction time.  Please check with your jurisdiction if you have questions about accreditation.
ENDS