mytest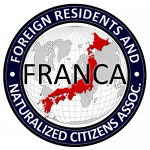 UPDATES ON TWITTER: arudoudebito
Hi Blog.  Forwarding.  Wasn't there, won't comment.  Arudou Debito
=============================
Eyewitness report of Shinjuku's overreaction to NJ Hallowe'en revelers on Yamanote
Last night the whole city was on fire. So many Japanese dressing up,
Roppongi and especially Shibuya looked like cute horror houses, and
there was this strong (positive) tension in the air, that makes Tokyo
nights so special…
But there was one exception to the party: Shinjuku JR minami-guchi,
where, in previous years, hundreds halloweeners had gathered to start
the party on a specific train of the Yamanote line. This year, there
were
– at least two hundred cops all over the station.
– several dozen of cops inside, blocking the staircase leading to the
Shibuya direction platform
– cops blocking every costumed person from entering the station
– per every stop of the Yamanote, there were at least half a dozen
cops on the platform
– in the train, there was at least three different Japanese with video
cameras with the specific purpose of documenting gaijin atrocitiies
– and a premier for this year, there were at least more than 100
PROTESTERS outside the kaisatsu, holding up signs against – I didnt
really come close enough to see against what, but when we got close
the kaisatsu from inside (entered through another exit), they were
shouting "Hiroshima, Nagasaki" at me (!) and Dan, almost as if they
had waited for somebody to show up to be yelled at. I yelled "Dresden"
back, but then already the cops were pushing us back. Anyway, why
should we play their spiel….
This whole anti-gaijin thing was apparently organised by 2chan.
And here is the punchline: there were apparently almost no gaijin or
other people there to do the Yamanote Halloween, definitely no more
than 10 people who seemed to be there explicitly for that.
Some people got on the train in Ikebukuro (nice idea), but the party
essentially consisted of me and Dan drinking a bottle of Denki Bran.
the guys with the camera, apparently out of frustration of lack of not
finding anything illegal, finally shouted at us – "it is not allowed
to drink on the train". I took their picture too, and they left in
Nishi-Nippori. we had upheld the tradition, so in Nippori we got off
the train and went to far more pleasant areas…
So far, nothing in the news or on youtube. if anything, it was those
protesters who were loud, aggressive, and wild. and stupid.
Sincerely, N.