mytest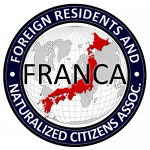 UPDATES ON TWITTER: arudoudebito
Hi Blog.  Courtesy of Paul Toland.  Arudou Debito in Sapporo
By the way,  For those of you who are following President Obama's trip to Japan, here
are the two most important times to be watching:
1.  13 November, 7 PM (Japan Time), 5 AM (Eastern Standard Time) – President
Obama's meeting with Prime Minister Hatoyama, to be followed by a Joint
Press Conference.  I don't know the exact time of the press conference, but
I'm assuming it will be about an hour or so after their meeting.  I'll be
watching for that tomorrow morning.
2.  14 November, 10 AM (Japan Time), 13 Nov 8 PM (Eastern Standard Time) –
President Obama will be making a speech at Suntory Hall in Tokyo, in which
he will discuss his view of U.S. engagement in Asia and reaffirm the
strength of Washington's alliance with Japan.
While I doubt he will address the child abduction issue at the Speech at
Suntory Hall, I am hoping he does mention the issue at the Joint Press
Conference, or if he does not mention it, I am hoping the press will ask
about it during the Q&A.  Unfortunately, the Q&A is usually only about 3
questions from each country's press (3 Questions from Japanese press, 3
questions from American Press).  There's almost no chance that the Japanese
press will raise it, so let's hope the US press will raise it within the
context of their 3 allowed questions.
The latest on the schedule (all times are Japan times):
6:50PM THE PRESIDENT and Prime Minister Hatoyama of Japan hold bilateral
meeting
7:10PM THE PRESIDENT and Prime Minister Hatoyama hold expanded bilateral
meeting
8:20PM THE PRESIDENT and Prime Minister Hatoyama hold joint press conference
8:45PM THE PRESIDENT and Prime Minister Hatoyama have dinner
That means the Press Conference will be held at 6:20 AM Eastern Standard
Time in the United States.  Paul
ENDS