mytest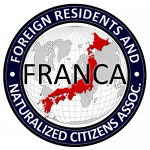 UPDATES ON TWITTER: arudoudebito
Hi Blog.  Last week I put out a call for anyone to submit a logo for Debito.org's upcoming iTunes podcast RSS Feed.  Thanks for all the submissions, everyone, especially on such short notice.  Here are the best ones:
Submitted by Manule:
From Kaoru:
(A quick note on this one:  I know Kaoru is a big fan of Noh, but I face a "Culture of No" every day when dealing with bureaucrats and stoneheads in Japan, and didn't quite want the "Oh Noh, it's Debito.org!" feeling behind this, sorry 🙂  )
From Jarod Trebas:
Honorable Mention, my favorite version submitted by Chris Bartlett:
This one in particular encapsulates the themes of people of any race or color being part of Japan and asking for human rights and solidarity.  Like it a whole lot, and would like to use it somewhere else in future.
And the winner is…
Jarod Trebas' alternate version:
The reason I chose this one was because of 1) the Rising Sun emblem on white (Japan is a circle and all that), 2) the theme of equality within Japan being the fundamental essence of Debito.org, and 3) the font matching the motif of circles and maruku naru etc.  It's also very, very simple and to the point, in the best traditions of Japanese minimalist art styles.  Thanks very much, Jarod.  If you'd like to promote something on Debito.org, let me know.
Thanks to everyone who submitted!  The podcast feed has been submitted and is pending iTunes approval.  Arudou Debito in Sapporo
UPDATE NOVEMBER 19, 2009. iTunes has approved the DEBITO.ORG Podcast. Do go and subscribe (search term: Arudou Debito). I've got almost all my past podcasts up there already!