mytest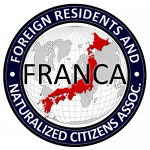 UPDATES ON TWITTER: arudoudebito
DEBITO.ORG PODCASTS now on iTunes, subscribe free
Hi Blog.  After the GOJ instituted the "Nikkei Repatriation Bribe" last April 1, bribing people with Japanese blood (only) to give up their visas, pension, and whatever contributions they made to Japan for a paltry lump-sum, "get out of our country and be somebody else's problem" exchange, we have some possible figures coming out on perhaps how many people actually took it.
On average over the past decade, the registered NJ population in Japan has risen by about 50,000 per year.  According to the figures below, we may have the first fall in the NJ population in more than four decades.  Let's wait and see, but the GOJ may have in fact succeeded in what I believe are the long-standing plans to keep the NJ labor market on a revolving-door, non-immigrant footing.  As I will be writing next Tuesday in my Japan Times column, this is what happens when you leave immigration policy in the hands of elite xenophobic bureaucrats in the Justice Ministry.  Arudou Debito in Sapporo
///////////////////////////////////////////////////
No. of immigrants applying for repatriation aid hit 16,000 by mid-Nov
Japan Today/Kyodo News Tuesday 24th November, Courtesy of AW
http://japantoday.com/category/national/view/no-of-immigrants-applying-for-repatriation-aid-hit-16000-by-mid-nov
TOKYO — The number of immigrants of Japanese descent who had applied for government repatriation aid since the program began in April had reached roughly 16,000 by mid-November, welfare ministry officials said Monday. The bulk of the applicants were Japanese-Brazilian workers whose limited-time contracts with manufacturers have been terminated and their families, the officials said.
While around 370,000 immigrants of Japanese descent from Latin America, including Peru and Brazil, were estimated to be living in Japan as of the end of last year, about 40,000 to 50,000 are believed to have returned home at their own expense. The repatriation aid program is expected to finish at the end of the current fiscal year next March, after only a year, amid cost-cutting efforts by the administration of Prime Minister Yukio Hatoyama.
ENDS
UPDATE:  As commenter Jeff notes below, note the wording of "about 40,000 to 50,000 are believed to have returned home at their own expense" in the second paragraph above.  Even the media is complicit in defining potential immigrants as outsiders, with the assumption of Japan not being their "home"  That's how deep this problem runs.  (And, for the record, even I didn't pick that out when I first posted.  Silly me.)