mytest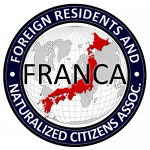 UPDATES ON TWITTER: arudoudebito
DEBITO.ORG PODCASTS now on iTunes, subscribe free
FYI. Debito
December 3 2009: Symposium on family law in other countries and amendment to domestic laws relating to the ratification of the Hague Convention
In Japan, abductions of children by parents are a growing problem as the number of failed marriages — domestic and international — is increasing rapidly. Numerous media outlets around the world have been reporting on this growing child abduction problem for Japan. Nearly one-quarter of the U.S. Senate had asked U.S. President Barack Obama to press Japan to ratify the Hague Convention on the Civil Aspects of International Child Abduction during his visit to Japan this early November.
This symposium will focus on the family law of other countries and amendment to domestic laws relating to the ratification of the Hague Convention.
We look forward to your attendance.
Date: December 3, 2009
Time: 2 pm ~ 4 pm
Place: Second Members Office Building of the Lower House
First Meeting Room
Contents:
1. Treatment of children after divorce – Comparison between German Law and Japanese Law
Lecturer: Law Professor Hirohito Suzuki of Chuo University
2. Hague Convention and Domestic Law ( Civil law, Habeas Corpus Act and Domestic Cause Inquiries Act, etc)
Lecturer: Professor Masayuki Tanamura of Waseda Law School
3. Speakers: Professor, Diet Members, Embassy officials, Left Behind Parents
Honorary Speaker: Attorney Mamoru Isobe, former Supreme Court Probation Officer, former President of Nagoya District and Family Courts, and former President of Nagano District and Family Courts
Organizers:Rikongono Kodomoo Mamoru Kai (Separated Children's Support)
Kyodo Shinkenno Kai (Joint Custody Group)
Left Behind Parents Japan
Contact: Hiroaki Morita Tel: 080-3482-7919;
email: saasfee88@yahoo.co.jp
Kentaro Mashito Tel: 090-6139-8609;
email: ichita555@yahoo.co.jp
From Masako
http://www.meetup.com/Left-Behind-Parents-Japan/
ENDS
UPDATE DEC 3:  A synopsis from an attendee is available below as Comment #3.