mytest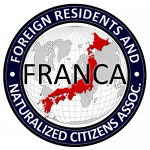 UPDATES ON TWITTER: arudoudebito
DEBITO.ORG PODCASTS now on iTunes, subscribe free
Hi Blog.  What follows is an excerpt of a transcript of Michael Moore's press conference at the Tokyo Stock Exchange, dated November 30, 2009.  He too doesn't like being fingerprinted at the border.  Fortunately, he speaks up about it, unlike most celebrities that want to bask in the lucrative glow of celebrity in Japan.  I make no claims about some of the other stuff he says, of course.  Text follows, courtesy of Philip Brasor.  (NB:  The transcript does not include the questions, only the answers Mike gave.)  FYI.  Arudou Debito in Sapporo
==================================
MICHAEL MOORE:
-This is my first day ever in Japan. I've always wanted to come here, so I'm grateful for the opportunity to do that. I'd hoped for many years that the island of Japan would float a little closer to America so that it wouldn't be such a long trip, but that didn't happen so I decided to finally come here.
-Can I explain why I'm dressed this way? The airline lost my luggage. It's one of the two Japanese airlines, I don't want to mention any names. OK. It begins with J and ends with L. I essentially decided to wear pajamas on the plane to sleep, and I got here with no clothes. So where in Japan am I going to find clothes that fit me? Anyway, they took to a place where sumo wrestlers buy their clothes, so i'm dressed partly in my pajamas and partly in sumo clothing. My apologies. I usually don't look that much better anyway, so you won't tell the difference.
-They asked me if I would share some of my impressions of my first 24 hours in Japan. The people are very friendly and nice. Well, actually, I landed at the airport and the customs people asked me for my fingerprints. I'm 55 years old and I've never been fingerprinted in my life, partly because I've never figured out the right kind of crime to commit, and partly because there's no reason to fingerprint me. So I stepped up to the counter and they said please put your fingers here. And I said, Why? I didn't refuse, I just asked why. And they immediately called in a supervisor and took me away. They told me, You have to be fingerprinted. And I said, I've never been fingerprinted. I have privacy rights, this is a democracy, right? They said, OK, so you want to be deported to the United States. I said, No, so they took me into a room and brought in another supervisor, even higher, and he said I could either voluntarily give my fingerprints and enter the country or they would forceably put me back on a plane back the US. So it's a lose-lose situation, I said, and he said, But you do this in the United States, when we visit the United States. And I said, Well, that's wrong. You have a passport, you took my picture, you X-rayed me. I don't understand the fingerprint. It's like, if no one stands up and says every now and then, we have rights as individuals. This is a privacy issue. I've not committed any crime, so therefore you're not deserving of my fingerprints. So we went back and forth and they read me my rights, which I brought along. They had me read in English. I read that. My wife had already gone through the line and my friends were waiting, so I reluctantly gave in, but I gave them a different finger than my index one. I was allowed in the country at that point.
-No need to make any apologies about immigration. It was all comedy. We're not robots, we're human beings. I didn't expect it to happen in Tokyo. I would expect it in Washington D.C.
-I've tried to film many times at the New York stock exchange, including inside the stock exchange for this film. And large news organizations in the states have requested that I be allowed there so that they can interview me on the stock exchange floor. And they've all been refused. So when they said to me this morning that we were going over to the Tokyo Stock Exchange, the Nikkei, I thought it was a joke. And we walked right in. No fingerprinting. I'm grateful, and thank you for allowing me in here to discuss "Capitalism" and business and the global economy. So you've seen me outside the New York stock exchange in the movie. I'll tell you a funny story. At the end of the movie when I'm wrapping the stock exchange in crime scene tape, I was very afraid that I might be arrested–and fingerprinted. And sure enough, I see the police coming toward me, and I think: this is it, they're coming to arrest me. And then I see the police officer and I said, I'll be out of here in a minute. I promise to clean all this up and be out of your way. I won't be any trouble. And the officer says to me, That's OK Mike. The guys in this building have lost a billion dollars of the New York City Police pension fund. You take all the time you want. So that's how I shot that scene.
-Generally, someone who holds some power, if they see me coming they don't want to talk to me, and it just makes it harder. On the other hand, because so many of the people in the US see me as somebody who has not been bought by the establishment, and I'm going to do what I think is the honest and right thing to do, it's easier for me to get the stories because the stories come to me. At the beginning of the movie, with the family that's being evicted, and the police show up to bang in the door? The family filmed that themselves, and they sent me the videotape. So one day I just got this package in the mail and opened it up and there was a tape. Because they thought I might show what happened to them. There was one place where they could send it and perhaps someone would see what has happened to them. So in some ways it's easier for me because I'm seen as someone who stands up to power, so people send me documents from work and things like that. But I have to say it's not an enjoyable place to be public enemy number one for the Republicans or the conservatives or the business establishment, because it creates a lot of turmoil and hatred toward me. It's not easy. I wouldn't apply for this job if I had to do it over again.
-I've often spoken admiringly of Japan in my books and my movies. I believe that there are many things you do that are right. I know that if I lived here I would find many things that are wrong, but I don't live here. For some strange reason you believe that if someone in Japan gets sick that person should be able to see a doctor without worrying about losing their savings or their home. Why do you do that? I'm guessing it's because you're all Japanese and you're all in the same boat, and if you let some people fall out of the boat then what's the purpose of the boat if people are drowning? An American family is evicted from their home once every seven and a half seconds. The number one cause of people losing their homes, the number one cause of bankruptcies are medical bills. People get sick and don't have health insurance, or the right kind of health insurance, and they lose everything, including their home. The total number of Japanese who were kicked out of their homes last year because they couldn't pay the doctor? None. Zero. Why not? Why have you decided to treat each other that way, to help each other, when you get sick, or lose your job? You've built a safety net. Why have you done that, and why don't we do that? This is the eternal question in all my films, because I love the US. I love being an American. I wouldn't want to live anywhere else. So the question I'm constantly posing to my fellow Americans is: Why do we treat each other this way, when no other civilized country that I've seen believes that we should punish you because you get sick, or we should punish you when your factory goes out of business. Why is that? You're not better than us. We're all human beings, right? Why have you structured your society in such a way that this is not allowed to happen? Why don't you kill each other? Oh, I know, you think the murder rate has gone up, but there have been years in the past when you had zero handgun murders. You have just a few gun murders each year, compared to what we have in the US. In some years we have 15,000 murders with guns and then another 15,000 suicides with guns. So why don't you kill each other? Because you're better than us? I don't think so. But in the last 20 years you started to change, because you had a series of conservative prime ministers, starting around the time of Ronald Reagan and Margaret Thatcher, Kohl in Germany, Mulrooney in Canada, and a series of prime ministers here all through the Elvis impersonator. No disrespect. So now you're getting more of the problems we have in America. There is more crime now. More murders. When people lose their jobs… I remember as a young man, the thing about Japan was that it was shameful for a company to lay people off. Is that correct? That's the way it used to be. So your conservative governments started to cut away at the social safety net that you created for your people. Cut money for health care. Cut money for education. Throw people out of work. Make life harder for people who don't make as much money. Punish them for being poor. So the more you've done it the American way, what have you ended up with? More crime. Less educated young people, who don't know as much as they used to know, right? So to answer your question, as much as I love America, quit being like us. Be the Japan you created after 1945, a Japan that valued education, a Japan that would not throw you out of work. A Japan that would never invade another country, and which would not support a country that would invade another country. And let me tell you, when you supported George W. Bush in his endeavors, you gave him legitimacy, because he was able to say to the American people, The Japanese, they're with me. Prime Minister Elvis-san is with me. Tony Blair is with me. The Italians are with me. Even the Danish. It's a legitimate war. If the Japanese prime minister, and the British prime minister, and the Italian and the Spanish and the Danish had all refused to give him his cover, I don't know that he would have gotten away with it. So the responsibility that these countries shared by supporting anything that George W. Bush did, it made it not only difficult for people in the US, but for people who suffer in this world as a result of the foreign policies of that individual. I'm so sorry to put it this way. Please don't take personal offense, but you asked me what would I say to the Japanese people, a society I think highly of, a society structured on peace and respect, and you've started to go down the other road. And my humble plea is to get off that road with your new prime minister and return to the road you used to be on.
[…]
-My father is 88 years old and I told him I was coming to Japan. He was in the first marine division in the South Pacific in WWII and fortunately survived and had me. When I told him I was coming here he was very happy. He said to me when we were discussing the wars last year, the reason Bush got us into these wars is because he's never known war. If he had known war he would never have wanted war again. He spent part of the war on Okinawa and I said I might go there to lay some flowers for all who died there, Japanese and Americans. His brother, my uncle, was killed in the Philippines during the war. And my dad has such a loving heart–you saw him in the movie. His best friend at church is a Japanese man. And both of them, 88 years old, go to the gym together every morning and work out together. As sad and difficult as this world can be, it does eventually get better. And I have always been filled with enormous hope and optimism that we will know war no more. Tomorrow evening Pres. Obama will announce if he will expand the war in Afghanistan, and I have passed on to him a personal request from my father and his Japanese friend: Mr. Obama, you do not know war. People who know war want it no more. I'm honored to share this message of peace with you, the people of Japan, who have been beacons of peace for the past 60-plus years.
ENDS