mytest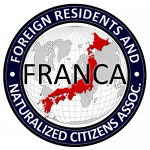 UPDATES ON TWITTER: arudoudebito
DEBITO.ORG PODCASTS now on iTunes, subscribe free
Hi Blog.  Three articles (two with original Japanese) below charting a couple of interesting developments regarding Japan as an international haven for child abductions.
The first article is what happens when the shoe's on the other foot, and the NJ parent goes on trial for allegedly abducting his or her child from Japan — the Japanese authorities eventually convict the NJ.  Asahi reports a Chinese father was found guilty (sentence suspended) in Japanese court of successfully, shall we say, "committing a Savoie" — actually getting his Japanese-Chinese daughters out of Japan (moreover after a J court awarded his ex-wife custody).  The story follows below, but one of the daughters came back to Japan from China and stayed on, and the father came over to get her — whereupon he was arrested and put on trial.  Now the mother wants Japan to sign the Hague Convention to protect Japanese from abductions (well, fine, but neither China nor Japan is a party, so there you go; oddly enough, accusations of spousal abuse — as in this case — are being leveled conversely as reasons for Japan NOT to sign the Convention).  Just sign the damn thing, already.
The second article is from the Mainichi highly critical of the Japanese consulate in Shanghai for renewing the daughters' J passports without consent of the J mother overseas.  Even though this is standard operating procedure when a Japanese spouse wants to bring the children back to Japan from overseas.  It only seems to make the news when the valve is used against the Japanese spouse.
Final irony:  Quoth the judge who ruled in this case, "It is impossible to imagine the mental anguish of being separated for such a long time from the children she loved."  Well, that works both ways, doesn't it?  Why has there never been a child returned by a Japanese court to a NJ parent overseas?  Why didn't this matter in, for example, the Murray Wood Case, when overseas courts granted custody to the NJ father yet the Saitama Family Court ruled against him?  And how about the plenty of other cases slowly being racked up to paint a picture that NJ get a raw deal in Japanese courts?
The third article (following the original Japanese versions of the first two) is how Minister Okada of the Foreign Ministry is setting up a special task force on this issue. Good.  But let's see if it can break precedent by acknowledging that NJ have as much right to access and custody of their children as Japanese do.  Dubious at this juncture.  Arudou Debito in Sapporo
================================
Former Chinese husband found guilty of abducting daughters
THE ASAHI SHIMBUN 2009/12/4, Courtesy GB, FG, and HH
http://www.asahi.com/english/Herald-asahi/TKY200912040352.html
In another case highlighting legal complexities if international marriages fall apart, a court found a Chinese man guilty of "abducting and taking overseas" his two daughters from their Japanese mother 10 years ago.
The Tachikawa branch of the Tokyo District Court sentenced Qin Weijie, 55, to two years in prison, suspended for three years, on Thursday.
According to the ruling, Qin and his Japanese wife were undergoing divorce procedures in June 1999, when he talked to their daughters, then 7 and 8, on a street in Akishima in western Tokyo. He took them on a flight to Hong Kong from Kansai Airport. The girls had been living with their mother at the time.
When the divorce was finalized, a Japanese court gave the mother sole custody of the children.
But Qin refused to hand over the daughters.
"(The defendant) disrespected the law, and his behavior was malicious. The circumstances after his criminal act were not good, either," Presiding Judge Manabu Kato said.
According to Qin's 44-year-old former wife, she was staying at a shelter with the two girls in 1999 to escape Qin's physical abuse. She said she spent the next 10 years searching for her children, fearing that they may be abused.
But the presiding judge said the daughters "grew up with a proper amount of love." He also noted that the younger daughter chose to live with her father in China, even after returning to Japan temporarily earlier this year.
After the ruling, Qin said: "In Shanghai, not only my second daughter but also my 1-year-old son from my remarriage are waiting. I'd like to go home soon and fulfill my duty as their father."
He had told the court that he took the girls to China for their own sake because "their life was unstable" in Japan at the time.
Prosecutors had demanded a three-year prison term for Qin.
When the daughters returned to Japan in January to renew their passports, the second daughter returned to China on her own will, but the elder daughter decided to stay with her mother.
Qin was arrested in September when he entered Japan for the purpose of getting the older daughter back.
According to the mother, the older daughter broke down in tears when she passed by the site where she was taken away 10 years ago. The girl is also being treated for an eating disorder, the mother said.
"My daughter is afraid of my ex-husband, and she is emotionally hurt. How can we get back the lost 10 years?" the mother said.
Disappointed with the suspended sentence, the mother urged the Japanese government to sign the Hague Convention on international child abduction and adopt measures to protect mothers and children who have escaped from abuse.
Under the convention, when a child has been taken from his or her country of residence, the child must be returned to that country.
Neither Japan nor China is party to the Hague Convention.
In recent months, cases of legal problems have surfaced concerning divorced Japanese women bringing their children to Japan without the consent of their former husbands overseas.
When the mother reported the abduction to police, she was told there was nothing they could do.
After she obtained legal custody, she asked the Foreign Ministry, the Chinese government, Diet members and lawyers for support. She even traveled to China several times but could not get her daughters back, she said.
In 2004, Tokyo police finally accepted her criminal complaint against Qin.
According to the welfare ministry, there were 37,000 international marriages in Japan last year, as well as 19,000 divorces among international couples. (IHT/Asahi: December 4,2009)
ENDS
=============================
Japanese consulate renewed passports of children taken overseas without consent
Mainichi Shinbun Dec 4, 2009, courtesy of TC
http://mdn.mainichi.jp/mdnnews/news/20091204p2a00m0na015000c.html

The Japanese consulate general in Shanghai renewed the passports of two girls without permission from their Japanese mother in violation of the Passport Law, after their Chinese father took them to China in the wake of a marriage breakup, it has been learned.
The consulate general renewed the passports of the girls, now aged 18 and 17, in 2004, despite their mother's repeated requests to the Ministry of Foreign Affairs not to renew the passports.
As a result of the consulate general's actions, the girls remained in China for five more years, and the situation was not resolved until the father came to Japan in September this year and was arrested on suspicion of child abduction.
"As a result of the government's mistake, I had to wait five years for the return of my daughters," the children's mother, who is in her 40s, said. "I want the government to move actively to protect the rights of children."
Passports for minors are valid for five years. Passport Law regulations state that permission must be obtained from a person who has custody of the children for the passports to be issued.
Representatives of the woman said that she and the Chinese man, 55-year-old Qin Weijie, married in 1988 and lived in Tokyo, but she left due to domestic violence by Qin. In June 1999, Qin met his daughters as they were traveling to school near the home to which his wife had moved, and he took them to China.
Qin and his wife divorced in 2000, and she was granted custody of the children. However, as she didn't know where they were, she repeatedly asked the Foreign Ministry not to renew their passports. She also filed a criminal complaint against Qin accusing him of abducting the children and taking them overseas. However, the consulate general renewed the passports in January 2004.
About five years later, when the deadline for renewing the passports of the children was again approaching, Qin contacted his former wife asking her to sign a consent form for renewal, but she said she wanted to meet them directly and confirm what they wanted to do, so the two came to Japan in January.
Qin was arrested after entering Japan in September this year at Narita Airport, trying to take his elder daughter, who wanted to remain in Japan, back with him. His former wife said the eldest daughter was suffering from an eating disorder and panic attacks, due in part to violent behavior from Qin.
On Thursday, Qin was sentenced to two years' imprisonment, suspended for three years, after going on trial facing international abduction and other charges. In handing down the ruling, Presiding Judge Manabu Kato criticized Qin's actions, saying, "His act of taking the children away without notice deserves criticism," but noted, "At the time Qin also held custody of the children." Commenting on the wife's position, the judge stated: "It is impossible to imagine the mental anguish of being separated for such a long time from the children she loved."
The Ministry of Foreign Affairs' Japanese Nationals Overseas Safety Division admitted the mistake in renewing the passports without consent, but said it could not provide detailed background information on individual cases.
(Mainichi Japan) December 4, 2009
国際結婚破綻:母に無断で子の旅券更新…上海日本総領事館
毎日新聞 2009年12月4日
http://mainichi.jp/select/wadai/news/20091204k0000m040117000c.html
国際結婚した日本人妻との生活が破綻(はたん)した後、2人の娘(18歳と17歳)を母国に連れ去ったとして、国外移送誘拐などの罪に問われた中国出身の会社員の事件に絡み、在上海日本総領事館が04年、2人の旅券を、旅券法の規則に反し、親権者である元妻(40代)の同意を取らないまま更新していたことが分かった。元妻は外務省に対し更新しないよう繰り返し要請していた。
更新で2人はその後5年間中国にとどまることになり、元夫が今年9月に来日し逮捕されるまで解決が遅れる結果となった。元妻は「国のミスで5年間も娘の帰りを待たされた。国は子の人権を守るため積極的に動いてほしい」と訴えている。
未成年者の旅券の有効期限は5年間で、旅券法施行規則は発給を受ける際には親権者の同意書が必要と定めている。
元妻の弁護士らによると、夫婦は88年に結婚し東京都内で暮らしていたが、元妻は98年、夫だった中国出身の会社員、秦惟傑被告(55)による家庭内暴力に耐えかねて別居。秦被告は99年6月、元妻の別居先近くの路上で、小学校に登校途中だった娘2人(当時8歳と7歳)に声を掛けて連れ出し、中国に連れ去った。
離婚は00年に成立、元妻は親権も認められた。居場所も分からない娘との再会を希望し、外務省に旅券を更新しないよう何度も要請。国外移送誘拐容疑で刑事告訴もした。しかし、上海日本総領事館は更新期限の04年1月、元妻の同意なしに2人の旅券を更新した。
秦被告は5年が経過し旅券の再更新時期が迫ったため、元妻に「親権者の同意書にサインしてほしい」と連絡してきた。しかし、元妻は「直接会って意思を確認したい」と一時帰国を求め、2人は1月に来日した。結局、秦被告が今年9月、日本に残ることを希望した長女を連れ戻そうと成田空港から入国、逮捕されたことで、元妻は10年ぶりに長女との暮らしを取り戻すことができた。元妻によると、長女は秦被告の家庭内暴力などの影響で摂食障害やパニックを起こしているという。
外務省海外邦人安全課は毎日新聞の取材に「同意書がないまま旅券を発行したのは確か」とミスを認めたが、原因については「個々の案件について詳しい経緯は話せない」としている。【青木純】
◇国外移送誘拐罪 父親に有罪判決
この件で国外移送誘拐などの罪に問われた秦惟傑被告(55)に対し、東京地裁立川支部は3日、懲役2年、執行猶予3年(求刑・懲役3年)の判決を言い渡した。加藤学裁判長は「黙って連れ去った行為は非難に値する」としたが、「当時は被告も娘の親権を有していた」などと述べた。
判決によると、秦被告は99年6月8日、別居していた妻の自宅から登校途中だった娘2人に声を掛け、同日中に国外に連れ去った。
加藤裁判長は判決で「長い間愛するわが子と離れることを余儀なくされた(元妻の)精神的苦痛は察するに余りある」と述べた。【青木純】
==================================
Foreign Ministry sets up division on child custody issue
Japan Today/Kyodo News Wednesday December 2 2009, courtesy lots of people
http://www.japantoday.com/category/national/view/foreign-ministry-sets-up-division-on-child-custody-issue
TOKYO — The Foreign Ministry on Tuesday set up a division to handle such issues as whether Japan should sign the 1980 Hague Convention, seeking to protect children from the harmful effects of failed international marriages.
Japan is the only country among the Group of Seven industrialized nations that is not a party to the convention, which provides a procedure for the prompt return of children to their habitual country of residence.
''I have heard opinions from European countries and America…and I would like to consider how to deal with the matter swiftly. But it is also a fact that there are difficult problems,'' Foreign Minister Katsuya Okada said.
The Division for Issues Related to Child Custody will consist of nine officials who are already serving the Foreign Ministry.
In a related move, the ministry held the first Japan-France liaison meeting aimed at promoting information exchanges and information sharing regarding specific cases that involve the two countries.
France is the first country with which Japan has set up such a bilateral mechanism in relation to the issue, a Japanese Foreign Ministry official said.
During the meeting, French officials handed a list of 35 cases in which Japanese women had returned to the country with their children after their marriages with French men failed.
The French officials also called for Japan to facilitate the process of identifying the children's locations or their health condition.
ENDS