mytest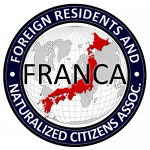 UPDATES ON TWITTER: arudoudebito
DEBITO.ORG PODCASTS now on iTunes, subscribe free
Hi Blog.  As this week leads into Xmas, I will be slowing down a bit on postings (who wants to read this kind of stuff during vacation time, anyway, right?), making them less frequent until the new year starts in earnest.  Meanwhile, DR sends me this post for blogging, food for thought.  Arudou Debito in snow-inundated Sapporo
/////////////////////////////////////////////
Sanding Down Your Fingerprints.
Incensed by the Japanese government's slavish following of the US fingerprinting program, I decided to take charge of my own biometrics.
(1)  The temptation to use harsh, large grit sanding paper was my first impulse, but I settled on a very fine black glass paper for the huge amount of 85 Yen at Jumbo Encho. Usually the packages have a window so the grade of paper can be felt without opening it.
(2)  I started sanding on my outbound journey. It was a Nagoya to Frankfurt trip, 12 hours and lots of time to gently sand all my finger and thumb prints lightly. The secret is lightly.
(3)  I was to be in the EU for almost three weeks, so about ten minutes per day I would sand a little, lightly. Even sanding lightly it's easy to break the skin and to expose muscle fibres, causing bleeding. Any distinguishing mark makes a fingerprint more identifiable, and defeats the whole purpose. After about a week I felt like a safe-cracker. Everything I touched was more pronounced; heat, cold, textures. Everything. I couldn't touch the strings on a guitar as my fingers were too sensitive. I could distinguish the dots on Braille texts much better than before! Eventually the fingers callous-over and, with time, the surfaces become harder.
(4)  Then I started to test what my fingerprints would leave behind using a simple, plain drinking glass. It's almost impossible not to leave a print on a clean glass. So, one by one over the next two weeks of my stay, I systematically sanded down the spots on each finger individually until I was satisfied that I left only an indistinguishable smudge on the clean drinking glass. After that, I made a paste of white sugar and water and soaked all my fingers in the small dish of that paste for a few minutes a day. The carbonic acid in sugar puts a nice polish on fingerpads, almost "sealing in" the plain surfaces, and erasing any signs of visible alteration. (That trick I learned of a very old episode of Hawaii 5-O!)
(5)  On arrival in Chubu, Nagoya I handed in Debito's tract protesting the fingerprinting, and the drone on the desk just sighed and went through the speech. I put my two index fingers on the pads, and he gave a "Hehhhhh!" He asked me to try all of my fingers in pairs. I did, also sighing and rolling my eyes. After they ALL came back smudges, he asked for the first set of indexes. "Sho-ga-nai!" he said, pushed the record button, snapped a very impatient looking face. With one swift motion he handed back my stamped passport, gaijin card and new in-out form, and I was on my way.
(6)  I've used this every time, but the last two they didn't go through all the digits, just took the first and sent me on my way. I guess they figure I'm just a smudgy gaijin!
ENDS