mytest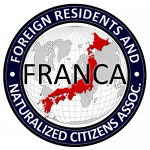 UPDATES ON TWITTER: arudoudebito
DEBITO.ORG PODCASTS now on iTunes, subscribe free
Hi Blog.  I want to offer my congratulations to Oguri Saori, very successful author of the "Darling wa Gaikokujin" series (translated as "My Darling is a Foreigner", but officially subtitled "My Darling is Ambidextrous"), for the news just out this month that the first book in the series will be made into a live-action movie (starring Inoue Mao and Jonathan Share as Saori and Tonii respectively).  The empire built upon the dream being sold to Japanese women for marrying a white foreigner keeps on gathering strength.  See the movie trailer here.
More interesting to me is the mutation of the Tonii character.  It's apparently based upon Tony Laszlo, one-time unicyclist, "journalist", "activist" and self-proclaimed leader of unregistered NGO "Issho Kikaku" (a long-defunct group — you can't even find their once-copious archives on the Wayback Machine because they have been blocked by the site owner — see what's left of it at Issho.org), and now happy multimillionaire thanks to his partnership with and characterization by his very talented wife.
Although portrayed in the movie by the very handsome and disarming Jonathan as a "grass-eating man", Tonii in real life is not as he is cartooned.  Laszlo is a big fan of putting his funds into threatening lawsuits, for one thing.  And of deleting internet archives.  And more.
It just so happens I found a cartoon parodying this phenomenon of the contrasts.  As the last post on Debito.org for this decade, enjoy.
Arudou Debito in Sapporo, wishing everyone a happy new year.  For Oguri Saori, it looks to be a fine one indeed, so, again, congratulations.
(click on image to expand in your browser)
ENDS