mytest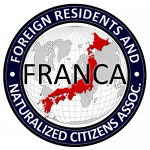 UPDATES ON TWITTER: arudoudebito
DEBITO.ORG PODCASTS now on iTunes, subscribe free
Hi Blog. Here we go again. Pet Xenophobe Dietmember Hiranuma Takeo (who is so far out there he won't, or can't, run under the LDP banner) has once again said something nasty about foreigners. Or at least people he still considers to be "foreigners". Read on, comment from me follows the Japanese Sankei article:
////////////////////////////////////
◆Ex-minister Hiranuma says lawmaker Renho is 'not originally Japanese'
OKAYAMA, Japan, Jan. 18 2010 KYODO NEWS
http://home.kyodo.co.jp/modules/fstStory/index.php?storyid=480954
and http://www.tmcnet.com/usubmit/2010/01/18/4576412.htm
OKAYAMA, Japan, Jan. 18_(Kyodo) _ Former trade minister Takeo Hiranuma on Sunday criticized remarks made by House of Councillors member Renho in November in trying to slash budget allocations for the supercomputer development by pointing to the fact that the politician, who goes by a single name, is a naturalized Japanese.
"I don't want to say this, but she is not originally Japanese," said the former Liberal Democratic Party member during a speech before his supporters in Okayama City. "She was naturalized, became a Diet member, and said something like that," the independent House of Representatives member continued.
Hiranuma was referring to the high-profile remarks made by the ruling Democratic Party of Japan member, who asked during a debate with bureaucrats, "Why must (Japan) aim to (develop) the world's No. 1 (supercomputer)? What's wrong with being the world's No. 2?" The remarks have been broadcast repeatedly on TV as a symbolic image of the DPJ-led government's efforts to cut wasteful spending.
The remarks were "not appropriate for a politician," Hiranuma said, adding that Japan, as a country aiming to be a science technology power, "must have the budget for (developing) the world's No. 1 (supercomputer)." He later told reporters he did not intend to say anything discriminatory and what he meant was that politicians should not engage in "sensational politics that ring the bell with TV broadcasters." According to Renho's website, she was born in 1967 as the child of a Taiwanese father and a Japanese mother, and switched her citizenship from Taiwanese to Japanese in 1985.
Renho's office told Kyodo News on Monday that the lawmaker would not make any comment on Hiranuma's remarks because she did not hear them directly.
////////////////////////////////////
「もともと日本人じゃない」 平沼氏が蓮舫氏を批判
2010.1.18  産經新聞 Courtesy of AS
http://sankei.jp.msn.com/politics/situation/100118/stt1001181234002-n1.htm
平沼赳夫元経済産業相(衆院岡山3区)が岡山市で17日に開かれた後援会パーティーのあいさつで、政府の事業仕分けで注目された民主党の蓮舫参院議員について「言いたくないけれども、もともと日本人じゃない。帰化して国会議員になって事業仕分けでそんなことを言っている」などと発言した。
蓮舫議員の事務所は18日、取材に「内容を確認してから判断したい」としている。ホームページによると、蓮舫議員は昭和60年に日本国籍を取得している。
平沼氏は次世代スーパーコンピューター開発事業の仕分けで、蓮舫議員が「世界1位でなければ駄目なのか」と発言したことを「政治家として不謹慎だ」と指摘。「科学技術立国の予算は世界1位じゃなきゃいけない。つけを払わされるのは有権者だ」と強調した。
パーティー終了後、平沼氏は記者団に「差別と取ってもらっては困る。テレビ受けするセンセーショナルな政治は駄目だ」と説明した。
=========================
平沼赳夫氏:蓮舫議員の仕分け批判「元々日本人じゃない」
毎日新聞 2010年1月17日
http://mainichi.jp/select/seiji/news/20100118k0000m010058000c.html
平沼赳夫元経済産業相(岡山3区)は17日、岡山市内で開いた政治資金パーティーのあいさつで政府の事業仕分けを批判し、仕分け人を務めた民主党の蓮舫参院議員について「元々日本人じゃない」と発言した。
平沼氏はあいさつの中で、次世代スーパーコンピューター開発費の仕分けで蓮舫議員が「世界一になる理由があるのか。2位では駄目なのか」と質問したことは「政治家として不謹慎だ」とし、「言いたくないが、言った本人は元々日本人じゃない」と発言。「キャンペーンガールだった女性が帰化して日本の国会議員になって、事業仕分けでそんなことを言っている。そんな政治でいいのか」と続けた。
平沼氏はパーティー終了後の取材に対し、「差別と取ってもらうと困る。日本の科学技術立国に対し、テレビ受けするセンセーショナルな政治は駄目だということ。彼女は日本国籍を取っており人種差別ではない」と説明した。
蓮舫議員のウェブサイトによると、蓮舫議員は67年、台湾人の父と日本人の母の間に生まれた。当時は父親が日本人の場合にしか日本国籍を取得できなかったが、改正国籍法施行後の85年に日本国籍を取得した。【石川勝義】
/////////////////////////////////////////
COMMENT:  Well, people will stoop to anything to delegitimize a person's opinion, won't they?  Even question their ability to put their country's needs first if they have NJ roots?  Well, as a fellow naturalized Japanese, I say:  Fuck you very much, Takeo.  Given your family history as an adopted son of the family name, I question your ability to represent Japan's Blue-Blooded Elites as you claim to do.
There's a reason for my intemperance.  This is not the first time Hiranuma has resorted to bigotry and ignorance to take cheap shots at an internationalizing Japan.
Consider Hiranuma's rallying with the alarmists to try and deny Permanent Residents from getting local suffrage in 2009.  (Bonus points for irony:  It's his camp which usually says that PRs should naturalize if they want suffrage.  Then he says the above; clearly naturalization is irrelevant to him.)
Consider Hiranuma's opposition in 2008 to a bill plugging paternity loopholes in Japan's Nationality Laws (which he fortunately could not stop) because it would dilute "Japan's identity".
Consider Hiranuma's alarmism rallying against passing a Human Rights Bill in 2006 since it would lead to "totalitarianism of the developed countries" (which his camp unfortunately probably did manage to stop).
And consider Hiranuma's belief that a female Empress might let a NJ in to sully The Royal Womb:
//////////////////////////////////////////
The Japan Times Thursday, Feb. 2, 2006
Female on throne could marry foreigner, Hiranuma warns
The Associated Press
http://search.japantimes.co.jp/cgi-bin/nn20060202a2.html
Dozens of conservative lawmakers and their supporters Wednesday attacked a proposal to let females and their descendents ascend to the Chrysanthemum Throne, warning the move threatens a centuries-old tradition — and could even allow foreign blood into the Imperial line.
The lawmakers, led by former trade minister Takeo Hiranuma, are fighting a bill being drafted by the government to avert a succession crisis in the Imperial family by allowing reigning empresses and their descendents.
Females have been barred from the throne since the Meiji Era (1868-1912) and a 1947 law further restricted ascension to males from the male line. No woman has reigned in more than 200 years.
The Imperial family has not produced a male heir since the 1960s and public support has been growing for a change in the law to allow Princess Aiko, the only child Crown Prince Naruhito and Crown Princess Masako, to ascend to the throne.
Hiranuma, however, warned the reform could corrupt the Imperial line, which he said has been the supreme symbol of Japanese national and ethnic identity for centuries.
"If Aiko becomes the reigning empress and gets involved with a blue-eyed foreigner while studying abroad and marries him, their child may be the emperor," Hiranuma told about 40 lawmakers, academics and supporters at a Tokyo hall. "We should never let that happen."
Despite the overwhelming public support for the reform, traditionalists have stepped up a campaign to quash the move — going so far as to propose bringing back concubines to breed male descendants as was done until the Taisho Era (1912-1926). Others have argued the aristocracy, banned after World War II, should be reinstated as a way of broadening the pool of candidates for the throne.
///////////////////////////////////////
COMMENT CONTINUES:  This video-nasty of a person is in my view unfit for national office.  Unfortunately, his constituency did not agree.  He got comfortably reelected in Okayama as an independent last August.  I'd say that's Okayama's shame, but Hokkaido reelects shameful politicians too (think Suzuki Muneo).
Let's hope the media takes Hiranuma to task like the media did somewhat for a similar-style othering of TV personality Takigawa Christel (unrelated to Hiranuma, but same genre).  Japan's future has no use for people like him.  Arudou Debito in Sapporo