mytest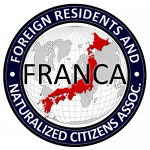 UPDATES ON TWITTER: arudoudebito
DEBITO.ORG PODCASTS now on iTunes, subscribe free
Hi Blog. One column I've always skipped in the Japan Times has been Amy Chavez's "Japan Lite". I have never found it interesting, and its attempts at humor are at best cloying if not corn-pone ignorant.   Kinda reminds me of the old "Beetle Bailey" or "Hagar the Horrible" cartoons published in my local newspaper that hadn't been funny for years; I always wondered why they kept printing them. Force of habit, I guess.
But last week's Chavez column, submitted by alert Debito.org Reader LW, had both LW and me scratching our heads as to what Chavez was smoking when she wrote it.   As LW wrote, "I know it's meant to be taken with a grain of salt, but there are a few underlying preconceptions there that just made me feel uncomfortable."
I too know it's supposed to be a "Lite" column (more filler, and no taste!), but even leaving aside its repeated use of a racial epithet in the name of childish play, I'm not sure I understand the premise of this meandering column just in terms of logic.  Where gaijin (yes, anyone not Japanese) are descendants of "cavemen" while Japanese come from, er, "gazelles"??  And then we somehow develop that into a metaphor of a "gaijin circus"?  Not kidding. Read on.
Seems like living in Japan has somehow broken Chavez's brain. Then again, I've seen it happen before, many times. Doesn't mean the Japan Times has to print it, however. Force of habit, I guess. But I reckon they could trim this fat from the paper and it would hardly be missed.  What do others think?  Arudou Debito in Sapporo
////////////////////////////////////////
JAPAN LITE
How about a gaijin circus in gazelle land? (excerpt)
By AMY CHAVEZ
The Japan Times: Saturday, Jan. 16, 2010, Courtesy of LW
http://search.japantimes.co.jp/cgi-bin/fl20100116cz.html
The other day, my husband bought a shirt at Uniqlo. "Wow, the sleeves are long enough!" he marveled. Clothes in Japan are getting bigger and even now foreigners can almost wear them. But there was still a problem. The arms of the shirt were too tight. This confirms a suspicion I have long had about the Japanese people — they are descendants of gazelles.
Now, this may be contrary to what you have heard, that the original Japanese people were descended from heaven. Hell no.
Consider that gazelles and the Japanese share some striking similarities: They are both fine boned and graceful and the females have pretty little feet with high heels, making them look like they are tip-toeing along. Now, put a cow next to the gazelle and you have us gaijin.
A crowd of Japanese people looks tidy but a crowd of beefy foreigners looks like a stampede. The Japanese, with their long, elegant limbs and quiet demeanor cannot possibly be descendants of the caveman.
Upon some careful research on the habits of gazelles, I found that mountain gazelles eat easily digestible plants and leaves. It's no wonder that these are the same things you'll find at a traditional Japanese restaurant: kuwai (arrowhead buds), ginko nuts, mitsuba leaves, shiso leaves, and even chrysanthemum leaves.
But wait, you protest, gazelles are from Africa! Well, why do you think it's called the Japanese "race"? Because they raced here from Africa during the Jomon Period to escape the hot, dry conditions of the African continent. Once here, they adapted and became mountain dwellers.
Sometimes it seems that we foreigners, descendants of the caveman, are a species unto ourselves. Living in Japan for us can sometimes feel like a circus, with all the attention and curiosity given to our movements…
Rest at
http://search.japantimes.co.jp/cgi-bin/fl20100116cz.html