mytest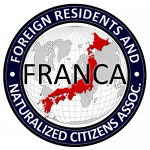 UPDATES ON TWITTER: arudoudebito
DEBITO.ORG PODCASTS now on iTunes, subscribe free
Hi Blog.  In a new trend of "Japan Passing" (a play on the old debate-stifling term "Japan Bashing", except this time it refers to Japan being passed over in importance as the purported "leader of Asia", in favor of China), we see the ultimate effect of Japan's closed-door policies towards the outside world (including immigration) — foreign correspondents pulling out and closing up shop, turning fading economic superpower Japan into an international media backwater by degrees.  It's sad to see the FCCJ (who accepted me as an associate member earlier this year, thanks) dwindling this much.  But after "two lost decades" of Japan's economic stagnation and the previous decade criminalizing and excluding immigrants, culminating in a policy push to send them "home" despite all their contributions, it's just one more chicken coming home to roost.  Arudou Debito in Edmonton
////////////////////////////////////////////////
Stop the presses — foreign media pulling out of Japan
With China rising and revenues falling, priorities have changed
By MARIKO KATO, Staff writer
The Japan Times Friday, Jan. 22, 2010 (excerpt)
http://search.japantimes.co.jp/cgi-bin/nn20100122f1.html
Major foreign media outlets are leaving Japan in droves, a sign of financial difficulties at home as the news industry struggles with falling advertising revenue. But observers note that Japan is also losing its appeal as the most newsworthy country in Asia, with China now the hot spot.
In the latest withdrawal from Japan, the news magazine Time closed its editorial branch in Tokyo earlier this month. Last year, Newsweek shut down its editorial section in Tokyo while the editorial staff of BusinessWeek merged with Bloomberg after the financial news service announced it would buy the magazine last October.
Among newspapers, The New York Times, The Washington Post and Los Angeles Times have been reported to have drastically reduced their forces…
According to the Foreign Correspondents' Club of Japan, its foreign members numbered around 250 during the late 1980s and early 1990s when the booming economy provided both interesting news and an attractive home for overseas correspondents. The count was more than 300 if Japanese staff employed by foreign media companies were included.
However, the ranks have since been decreasing steadily, with only 144 foreign members registered as of March 2009.
Rest of the article at
http://search.japantimes.co.jp/cgi-bin/nn20100122f1.html
ENDS