mytest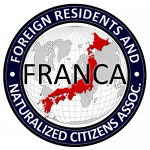 UPDATES ON TWITTER: arudoudebito
DEBITO.ORG PODCASTS now on iTunes, subscribe free
Hi Blog.  Here's a case of how the GOJ can be incredibly insensitive towards how the J cops police NJ:  Not issuing them documents properly just in case they get snagged for Gaijin Card checks.
There was the threat of this sort of thing happening when a friend of mine accidentally overstayed his visa back in 2004, and after he went in, owned up, and was forgiven by Immigration, they issued no physical proof that his visa was now legal and could have been deported anyway had he not avoided Police Boxes for the following few weeks:
//////////////////////////////////////////
Visa villains
Immigration law overdoes enforcement, penalties
…A university professor, who has worked in Japan for more than a decade, discovered his visa was three weeks overdue. He went to Immigration to own up — which, until recently, would have resulted in a lot of bowing and a letter of apology. But this time, after being questioned, photographed, and fingerprinted, he was told that he was now a criminal, warranting an indefinite period of background investigation.
Problem is, officials refused to issue any evidence that his visa was being processed. Outside Immigration, he was still as illegal as when he walked in. Their advice? "Stay out of trouble. And remember your case number."
Contrast that with how Japan processes other forms of identification, such as driver licenses. The government mails all bearers a reminder before expiry. During processing, you get a temporary license to keep you out of jug in case you get stopped by the cops.
But if the professor gets snagged for a random Gaijin Card Check, he might just disappear. With detentions short on legal advice or contact with the outside world, what's to stop another summary deportation?
https://www.debito.org/japantimes062904.html
//////////////////////////////////////
Things haven't changed.  Read on.  This negligence on the part of otherwise thorough policing in Japan is worse than ironic.  It should be unlawful — harassing, even incarcerating, otherwise law-abiding NJ just because they got zapped by racial profiling in the first place.  Arudou Debito in Edmonton
//////////////////////////////////////////////
Rwandan refugee held by prosecutors over visa status
(Mainichi Japan) January 23, 2010, Courtesy of M&M
http://mdn.mainichi.jp/mdnnews/news/20100123p2a00m0na026000c.html
NAGOYA — A Rwandan man seeking refugee status in Japan has been held in custody for over two weeks, on suspicion of violating the Immigration Control Law.
The office of the United Nations High Commissioner for Refugees (UNHCR) and refugee relief organizations are requesting his release, police said.
The 30-year-old was arrested on Jan. 7 for failing to present valid identification after stopped by local police in the Aichi Prefecture city of Kita-Nagoya, according to his lawyer. He was carrying a copy of the receipt for his refugee status application, but the document was deemed invalid without a photograph.
On Jan. 13, the Nagoya District Public Prosecutors Office was informed by the Ministry of Justice that the man filed for refugee status with the Nagoya Regional Immigration Bureau in 2008. However, public prosecutors have decided to keep the man in custody until Jan. 28, and the local summary court has approved the decision.
"We cannot comment on the matter as we are in the middle of an investigation," said public prosecutors.
The man, a member of the Tutsi ethnic minority from southern Rwanda, fled to Uganda in 1994 to escape persecution. He was 14 years old. He lost contact with his family and returned home in 2003. In April 2005, he arrived in Japan on a fake passport.
After working in Aichi and Mie prefectures for a couple of years, the man applied for refugee status in November 2008. However, despite three interviews with immigration authorities he has yet to be granted refugee status. He also applied for a foreign resident certificate in Kanie, Aichi Prefecture, in October 2009, but the municipality says they cannot verify the applicant's identity.
According to the Foundation for the Welfare and Education of the Asian People's Refugee Assistance Headquarters, foreigners who have been arrested for illegal overstaying or nonpossession of passport are often released if only their application for refugee status is confirmed.
"It is unlawful that police and public prosecutors keep him in custody knowing his status," said lawyer Naoya Kawaguchi.
ENDS
/////////////////////////////////
愛知県警:難民申請中のルワンダ人男性逮捕…確認後も拘置
毎日新聞 2010年1月23日
http://mainichi.jp/flash/news/20100123k0000m040129000c.html
愛知県警に出入国管理法違反(旅券等不携帯)容疑で7日に逮捕されたルワンダ人男性(30)が、難民認定申請中と確認された後も拘置され続けていることが22日分かった。男性から08年に申請を受けた名古屋入国管理局は、強制収容せず在宅で審査を続けていた。県警によると、国連難民高等弁務官事務所(UNHCR)や難民支援団体からは早期釈放を求める意見が寄せられているという。
県警西枇杷島署や男性の代理人弁護士によると、男性は7日、愛知県北名古屋市の路上で警察官の職務質問を受け、旅券や外国人登録証を携帯していなかったことから署に任意同行された。
男性は難民認定申請の受理を示す書類の写しを提示したが、書類に顔写真がなく本人確認ができないとして現行犯逮捕された。13日に法務省から男性が在宅で難民認定の審査中だとの情報提供を受けたが、地検はさらに10日間の拘置延長を求め、名古屋簡裁も認めた。拘置期限は28日で、男性は22日現在も同署に拘置されている。
難民認定の申請書によると、男性はルワンダ南部出身のツチ族。ルワンダ内戦時にフツ族の迫害を受け、14歳だった94年に隣国のウガンダに逃れた。家族とは音信不通となり、03年の帰国後は支援者にかくまわれ、05年4月に支援者が用意した偽造旅券で来日した。
愛知県や三重県で働き、08年11月に知人の勧めで難民認定を申請した。これまで3回入管の事情聴取を受けたが、結論は出ていない。09年10月には愛知県蟹江町に外国人登録を申請したが「本人確認ができない」との理由で判断は保留されている。
アジア福祉教育財団難民事業本部によると、難民申請者は、旅券等不携帯や不法残留の容疑で逮捕されても申請中と確認されれば釈放される例が多いという。代理人の川口直也弁護士は「入管が在宅で審査中なのに、警察や検察が身柄拘束を続けるのは不当だ」と訴えている。
名古屋地検は「捜査中なのでコメントは差し控えたい」、西枇杷島署は「拘置請求は地検の判断」としている。【秋山信一】
ENDS