mytest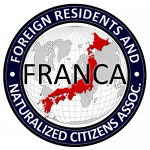 UPDATES ON TWITTER: arudoudebito
DEBITO.ORG PODCASTS now on iTunes, subscribe free
Hi All. A UK journalist would like to get in touch with Asian NJ wives in rural Japan. Forwarding the below with permission. Please feel free to contact her directly at helen AT helencroydon DOT com, and to forward this email around. Thanks very much. Arudou Debito in Sapporo
Begin forwarded message:
///////////////////////////////////////////////
From: Helen Croydon
Date: February 2, 2010 1:30:48 AM JST
Subject: ASIAN FOREIGN WIVES IN RURAL JAPAN
Hi Arudou Debito. I am a journalist based in the UK and coming to Japan in February/March to research a couple of stories, one of which is the issue of Asian women being encouraged to immigrate into Japan and marry into rural Japanese families.
I want to talk about the problem in farming community of there being a shortage of Japanese-born women because increasingly more are abandoning the countryside for the cities and hence there are many 'drives' to get Japanese men in rural communities to marry and produce children.
I wonder if you have any literature/information/past postings on your site about the issue.
More specifically, I want to get the personal stories of some of the Asian wives who have come to Japan to marry into rural families. Would you know any such women that may be willing to talk to me about their experiences (they can keep anonymity of course if they want to).
Also, I would like to find (though this may be harder!) someone who is involved in the so-called 'marriage brokering agencies' – either someone who has contact with the agencies who play a role in sending women from Asian countries to Japan or, someone in Japan with a connection to local authorities who may have officially encouraged the practise.
I actually lived in Nagano city in 1995 and then in Yamaguchi in 1999. I studied Japanese at university and spent two years there as a student (though I have totally forgotten everything but the very basic Nihongo now!). I am planning to visit Japan at the end of Feb/beginning of March and so would appreciate any leads on lines of research, or any contact details of relevant contacts and case studies.
I appreciate your help on this. If you would prefer to talk to me, rather than email let me know a telephone number and I will happily give you a call. Best, Helen
………..
Helen Croydon
Freelance Journalist & Producer
Email: helen@helencroydon.com
www.helencroydon.com
ENDS