mytest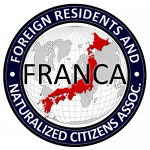 UPDATES ON TWITTER: arudoudebito
DEBITO.ORG PODCASTS now on iTunes, subscribe free
Hi Blog.  Writing to you from Calgary, Canada.  As a tangent that might not be all that tangental, let me tell you about an odd experience I had at Narita Airport yesterday.
It was a breeze for a change getting out of Hokkaido and going overseas (which generally means, if you don't go through Seoul, that you go through KIX or Narita), as my bags were checked all the way through to Vancouver (meaning I didn't have to get my bags and go through long-lined Immigration procedures again at Narita).  And no, there were no double-takes at my Japanese passport at any stage of the game.
That is, until boarding.  I had a ten-hour layover in Narita (!! — it was longer than my actual flight to Canada), so I holed up in the United Airlines lounge (the ANA lounge idiotically won't take non-members willing to pay 50 bucks at United or Delta) for the duration and got stuff done (free beer and internet, not bad at all).  Then when I was heading back for the gate about fifteen minutes before boarding, I was paged along with about four other people to come to the Air Canada desk at the gate.
They asked to see my passport.  I obliged.  Then they asked (whole exchange in Japanese):
"You're naturalized, right?"  Yes.
"What was your nationality before?"
I double-took and told them that was unessential information.
"So you are unwilling to say?"
I asked what this information was necessary for.
"We're just asking."
"No you're not.  Who needs this information?  You as the airline?"
"No, the Canadian Government wants it.  They're an immigration country.  They're trying to avoid faked passports."
Me:  "Erm, I don't get it.  I'm not on a faked passport, obviously.  And it's not a Canadian passport anyway.  Why are naturalized people more suspicious?"
"I don't know."
"Were any of the other four people you paged called up for a passport check?"
"No, different business."
"So you're only singling out the naturalized people for extra identity checks?"
"Yes."
"This is, frankly, annoying and insulting.  And unCanadian.  I went over there in 2006 and was not subjected to this.  When did this start?"
"I don't know.  I've only been working here about a year."
"Well, I'm not telling you my birth nationality.  It's unnecessary.  And I don't see how knowing that helps you smoke out any faked passports.  Okay?"
That was fine.  They pursued it no further.
I got through YVR and other checkpoints just fine, again, with no double takes.
Any thoughts from people out there?  Anyone with connections to the Canadian government willing to ask around and see if this is actual policy?
Arudou Debito in Calgary