mytest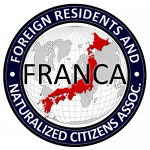 UPDATES ON TWITTER: arudoudebito
DEBITO.ORG PODCASTS now on iTunes, subscribe free
Hi Blog.  For Sunday, here's my latest tangental column in Sapporo free paper SAPPORO SOURCE — on middle age and the insights that it provides.
Download the entire issue of SAPPORO SOURCE here in pdf format.  Cover, scanned page, and text of the article follows.  Arudou Debito in Calgary
(Click on image to expand in browser)
ON MIDDLE AGE
SAPPORO SOURCE Column 7, for publication in the January-February 2010 issue
By ARUDOU Debito
DRAFT SIX — VERSION AS SUBMITTED TO SAPPORO SOURCE
I turned 45 this month on January 13th. Now I can probably say my life is half over. With current average lifespans, I'll be lucky to make it to age ninety. But this milestone occasions some thoughts about one's "Middle Age".
Middle Age enables one to look both forward and back — with the health and vim of a younger person, and the clarity of an elder. It's like being on top of a hill: I can look behind at where I came from, and look ahead (with better focus than ever) at where I'll probably be going.
Let's reflect upon our adult experiences (admittedly, for people like us lucky enough to live in developed countries). In our reckless Twenties, many of us had no idea where we would be twenty years from now. Still, did it matter? We were finishing our educations, starting our careers, or even selecting partners to walk the course of life with. For many, however, it was too soon to "settle down". Hey, we hadn't even lived our first 10,000 days yet. What was the rush?
Then came our Thirties, and it was time to "grow up" and start considering some "investments": What did we want to "do" with our lives? How could we convert a "job" into a "career"? Who really were our "good friends"? Who would we spend our leisure time with? And with our body clocks ticking, it was time to decide if we wanted to reproduce or not. This meant changing any relationship that had developed out of love, or habit, into legal ties. If and when children popped out, we had the responsibility of providing stability. Then we had to repeat the questions above.
But for me, for half a decade now, it's been the Forties. Once we get more than halfway into our second set of 10,000 days, things tend to come into stark relief. Some people can see where their chosen paths will end, and wonder if they made the right decisions. Many experience a very real Midlife Crisis — as in, coming to terms (or not) with a fundamental question: "Is this all there is to life?" This is a time when people suddenly make wrenching decisions that stun onlookers: "Why would you work so hard for so long to get where you are now, and then give it all up?" The answer: They just weren't happy with what they got.
The Forties are also in some ways an awkward age, particularly in Japan. We are not young enough to get away with some youthful excesses and mistakes. Yet we are not visibly old and grey enough to be entitled to filial piety, or coast along on the respect for the elderly found in Asian societies. And for many, our present salary is hardly munificent, especially up here in Hokkaido, making us wonder how we'll ever afford our kids' upcoming college tuition. Will our investments help them with their investments as they bud off?
Middle Age is also a midpoint in the aging process. Many realize that genes and life's experiences have aged our peers quite differently. We can look at Facebook photos of high school friends we haven't seen for decades, and see how they've turned out. Some are relatively unchanged, except for the extra kilograms or the cue-ball pate. Others have become exactly like their parents — fenced in, furrowed, domesticated, surrounded by their lusty studs and fillies. Some are, incredibly, even ready to become grandparents. (Myself, I come off looking like a Beat Poet with a full head of hair, for which I am grateful.)
Now looking forward, as the Fifties, Sixties, and Beyond (hopefully) loom, we had better recognize some limitations and make some personal pacts. For soon all of the things we took for granted — physical stamina, libido, corporal mobility and integrity, mental faculty, and the reckless optimism of youth — will be dimming if not going to seed.
Then pops up the "R-word" — "Retirement" — something many thought only old fogies worry about. But now it's our turn. Many will have paid enough years into their pension plans and still wonder if they will get enough back to take care of themselves. And others will realize that their hopes and dreams, maybe even the thought of changing and improving the world, will quite possibly not come to fruition. So they either reconcile themselves to a quiet life, cultivating a hobby to keep their minds awake and bodies moving, or make themselves known as community leaders and volunteers, if not potential political candidates (representative democracy, after all, favors the older and experienced).
It is a luxury of this age to appreciate that every life stage has its benefits. But Middle Age in particular endows the self-aware with the knowledge of how to make adjustments to maximize self-worth and happiness. What makes you happy? And what will you do to achieve it before you die? If not now, when?
Of course, there are the nostalgic types, who hark back wistfully and say, "I wish I was, say, sixteen again." Yes, reminiscing has its uses, but I believe it should not be a life view. I'm one of those (probably rare) people who rarely looks back, and when I do, I realize I have never been happier than now. From my current perspective as a 45-year-old, I consider that very lucky indeed.
Let's hope my second — and third — 10,000 days occasion the same emotions when I look back. "Look back NOT in anger", one can hope.
ENDS
927 WORDS