mytest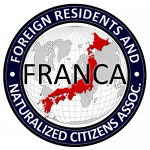 UPDATES ON TWITTER: arudoudebito
DEBITO.ORG PODCASTS now on iTunes, subscribe free
Hi Blog. Here's something that's been sitting on my server since September 2007 (!!) and I've finally decided to put up now. (Didn't want to encourage sales of something like this by attracting attention to it until long after the fact.)
A magazine on "Taboos", sent to me more than two years ago by MS, tells the story of the reactionary gaijin who took the "Gaijin Hanzai Ura File" mook to task for the lies and hate speech it was spreading on convenience store newsstands nationwide (substantiation of that all here).  And portrays that pitifully misunderstod publisher, Eichi Shuppan Inc., which went bankrupt within two months of releasing that mook, as victim.
It has quotes from me (even of me laughing) that it never garnered through any interviews (they apparently talked to Eichi, but I received no communication from this publication), and shows me as some sort of fearsome activist (thanks, I guess).  It of course offers no counterarguments to Eichi's spurious published assertions, for example about the rise of NJ crime (I would have given those counterarguments if they'd only asked), accepting their assertions at face value.  And of course we have no real debate on whether or not the book was actually telling the truth or not (obviously, as I argued in many venues, it wasn't).  For all the research they did pulling my written quotes out of context, they didn't cite my questions of the veracity of the portrayals that assiduously at all.
In other words, it's a debate that once again favors and victimizes Team Japan.  Those poor victimized convenience stores responding to public pressure (yeah, like that worked for "Mr James"; McDonald's basically ignored us).  It couldn't just be that the stores carrying the mook were convinced by our arguments about its exaggerated and errant claims and hateful tone now, could it?  Naw, Japanese lost to the foreigners, therefore the foreigners didn't fight fair.  And now because of that, we have yet another "taboo" that hurts We Japaneses' Freedom of Speech.
Hardly a "taboo" here.  You overdid it, and lost the debate.  That's all.  And if you spread lies and hate speech in public again like this, you should be called on it again and debated against.  And if you lose the debate (moreover your company after your risky business decisions), don't put it down to sour grapes and blame the other side for your losing.  Take responsibility for your actions like an adult, and put it down to publishing stupid things that were trying to defame and hurt people, particularly Japan's NJ residents.  You lost.  Live with it.  Arudou Debito in Sapporo
(Click on any image to expand in your browser)
ENDS