mytest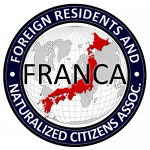 UPDATES ON TWITTER: arudoudebito
DEBITO.ORG PODCASTS now on iTunes, subscribe free
Hi Blog.  In one more step to define Japan's slide into international irrelevance, the national sport (kokugi) has decided to turn not only exclusionary, but also undeniably racist.  The Japan Sumo Association announced this week that it will no longer count naturalized Japanese sumo wrestlers as "real Japanese".  Then it will limit each stable to one "foreign" wrestler, meaning "foreignness" is a matter of birth, not a legal status.  This is a move, we are told by the media, to stop sumo from being "overrun with foreign wrestlers".
That means that if I wanted to become a sumo wrestler, I would become a foreigner again.  Even though I've spent nearly a quarter of my life (as in close to ten years) as a Japanese citizen in Japan.
Well, fuck you very much, Sumo Kyoukai.  You are the shame of Japan.  And I present you with your special Debito.org Dejima Award (complete with a big loogie on top) reserved only for the most breathtakingly exclusionary moves seen in a society that even the UN says allows "deep and profound" racism.
You'd think with Takanohana's coup-ascension to the upper echelons of the JSA, that things would be liberalizing.  Nope.  They're going the other way.  I thought as much.
How about having some international sports leagues limit their Japanese players to one — say, Japanese in Major League Baseball teams? Including those Japanese who have naturalized?  Oh wait, do I hear calls of racism from the Japanese Peanut Galleries?  Yes, the shoe on the other foot would pinch, wouldn't it?  And the sport as a whole would suffer since innate talent (as we have seen by the number of talented sumo rikishi from overseas) is hardly a nativist issue.  But try telling that to the racist JSA.
Arudou Debito in transit, wondering what kind of a Japan he's returning home to.
////////////////////////////////////////////////////
SUMO
JSA to change rule on foreign sumo wrestlers
Japan Today Wednesday 24th February 2010, Courtesy lots of people
http://japantoday.com/category/sports/view/sa-to-change-rule-on-foreign-sumo-wrestlers
TOKYO — The Japan Sumo Association decided on Tuesday it will allow only one foreign-born wrestler per stable, meaning the one slot reserved for foreigners, which until now would become vacant when wrestlers took Japanese citizenship, cannot be filled.
For example, if a Mongolian-born wrestler belonging to a stable were to gain Japanese citizenship, other foreign wrestlers would be prohibited from joining the same stable.
JSA Chairman Musashigawa notified stablemasters of the decision made at an extraordinary meeting at Tokyo's Ryogoku Kokugikan the same day.
The existing restriction on foreigners will be in effect until newcomers for next month's spring tournament undergo physicals, after which the new rule will be imposed.
''You get the impression it is a severe measure but if the brakes are not applied somewhere, there will be more and more stables overrun with foreign wrestlers, so it can't be helped,'' said one stablemaster.
In recent years, the number of foreign wrestlers has been on the rise, as the existing loophole leaves a vacancy once someone from a respective stable gains Japanese citizenship.
Four Mongolian-born wrestlers and two Chinese-born wrestlers have taken Japanese citizenship since April last year.
The JSA decided in February 2002 to ''limit the number of foreign wrestlers who can be recruited to one per stable.''
The latest shakeup in the JSA comes after Mongolian-born former grand champion Asashoryu quit the sport just weeks earlier following allegations he attacked a man outside a Tokyo night club in a drunken rage.
Sumo has been rocked to the core in recent years by a spate of scandals, including charges of drug violations, a death threat and a six-year prison term meted out to a stablemaster over physical abuse leading to the death of a 17-year-old wrestler.
There are nearly 60 foreign wrestlers in sumo today.
ENDS