mytest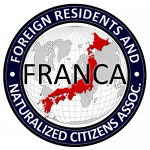 UPDATES ON TWITTER: arudoudebito
DEBITO.ORG PODCASTS now on iTunes, subscribe free
Hi Blog.  Short entry for today.  I just heard yesterday from NGOs concerned with human rights in Japan that I will be part of a group meeting with Mr Jorge Bustamante, Special Rapporteur on the human rights of migrants, on March 23 in Tokyo.
I will have twenty minutes to make a presentation regarding exclusions of NJ in Japan in violation of UN CERD treaty.
Is there anything you'd like me to say?  I already have some ideas here (see Chapter 2).  But I'm open to suggestions and feedback.  If there is anything you would like me to present him, please send me at debito@debito.org.  Please keep submissions concise, under 2 sides of A4 paper (meaning one sheet front and back) when formatted and printed.
To give you some idea of format, I've given presentations to UN Rapporteurs before, particularly Dr Doudou Diene back in 2005 and 2006.  The archive on that here.
I will of course make the case that the GOJ is being intransigent and unreflective of reality when asserts, again and again, that Japan does not need a law against racial discrimination.  And in violation of its international treaty promises.
The floor is open, everyone.  Thanks very much for your assistance.
Arudou Debito in Sapporo
Chair, NGO Foreign Residents and Naturalized Citizens Association (FRANCA)
ENDS