mytest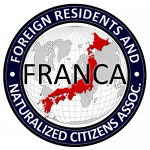 UPDATES ON TWITTER: arudoudebito
DEBITO.ORG PODCASTS now on iTunes, subscribe free
FRANCA (Foreign Residents and Naturalized Citizens Association), an NGO founded last year and registered with the Japanese government to look out for the interests of long-term NJ and naturalized Japanese, will be having two meetings this month.
FRANCA Sendai Meeting Sunday, March 21, 2010, 1:30-4:30PM. Place: AER Building next to Sendai station (El Solar Meeting Room 1, 28F), from 13:30 to 16:30. Please attend and bring a friend or the family! More details and contacts at FRANCA Sendai
FRANCA Tokyo Meeting Saturday March 27, 2010; 6PM-9PM International House of Japan 5-11-16 Roppongi Minato-ku, Tokyo Meeting Name – FRANCA How to get there at http://www.i-house.or.jp/en/ihj/access.html
Please consider attending and finding out more about what we can do for each other.  I'll be giving a presentation on what FRANCA is, what it's done so far, and what we could have it do in future with your help.
Things are not necessarily getting better for Japan's residents of ethnicity, color, and multiculture.  And they won't unless somebody pushes for improvements.  That's what we want to do.
See our goals and contact details at www.francajapan.org.  We look forward to seeing you there.
Arudou Debito in Sapporo