mytest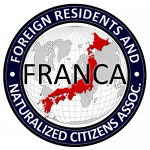 UPDATES ON TWITTER: arudoudebito
DEBITO.ORG PODCASTS now on iTunes, subscribe free
Hi Blog.  Here we have a part of Osaka Chuo-ku making public announcements protecting their municipality against "illegal foreign overstayers" and "illegal workers".  Using invective like "furyou gaikokujin haijo" (exclude bad foreigners), it's rendered on the same level as the regular neighborhood clarion calls for "bouryokudan haijo" (exclude the yakuza).  I see.  Foreigners who overstay their visa and who get employed (sometimes at the behest and the advantage of the Japanese employer) are on the same level as organized crime?  And you can pick out Yakuza just as easily as NJ on sight, right?
This campaign has been going on for years (since Heisei 17, five years ago), but the Yomiuri now reports efforts to really get the public involved by tapping an enka singer to promote the campaign.  How nice.  But it certainly seems an odd problem to broadcast on the street like this since 1) I don't see the same targeting happening to Japanese employers who give these "bad foreigners" their jobs, and 2) numbers of illegal overstays caught have reportedly gone down by half since a decade ago.
Never mind.  We have budgets to spend, and disenfranchised people to pick on.  Nice touch to see not only sponsorship from the local International Communication Association (how interculturally sensitive!), but also "America Mura no Kai", whatever that is.  Yet another example of state-sanctioned attempts to spread xenophobia and lower the image of NJ — this time by gangsterizing them.  Arudou Debito in Sapporo
////////////////////////////////////////////////
June 3, 2010, MB writes:
Hi Debito, First of all let me say that your efforts are really appreciated and I really think that you help many people !!
By the way, I just found this article:
http://www.yomiuri.co.jp/e-japan/osaka/news/20100603-OYT8T00084.htm

which is connected to the http://www.fuckedgaijin.com/forums/showthread.php?t=25068
Every now and again, local districts around the country will appoint an honorary chief of police for the day who will usually attracts media coverage for some regular campaign. Minami in Osaka recently chose enka singer Reiko Kano to go out and raise awareness among local residents. You must be wondering what issue was she given to promote Perhaps bicycle parking or warnings about ATM bank fraud? Osaka sees a lot of purse-snatching so maybe she was passing out fliers about that. Actually, it appears the Minami police decided to use the singer to put people on the alert for illegal immigrants. The fliers, put together by police and a local residents group, read 「Stopザ・不法滞在」 ("Look out for illegals"). Police say they caught 150 last year. That's down 50% from 10 years ago but there are concerns that fake passports and fake gaijin cards are getting harder to spot.
I just thought that maybe it could be of interest for the blog. I must admit that this movement to "clean" Minami in Osaka is not all that bad BUT I especially didn't like this:
http://minamikasseikakyogikai.org/kankyo.html
7) 不良外国人の排除
8) 暴力団の排除
Maybe I'm over-sensitive but using 排除 with 人 it doesn't sound too good…..plus it's just above the Yakuza….comparing a person without a visa to a gangster is not very nice.
All in all it seems that the campaign aims also to promote Osaka (and Minami) as a touristic spot thus they aim at "cleaning" the city and give a nice image to the "foreign tourists"…
ENDS