mytest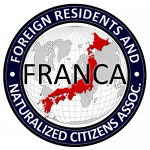 UPDATES ON TWITTER: arudoudebito
DEBITO.ORG PODCASTS now on iTunes, subscribe free
Hi Blog.  As today is a holiday, here's a Holiday Tangent of a completely personal nature:
About six weeks ago I received out of the blue two fat books from a distant relative.  Information on the Schofill Clan, hand-collated from family history and lore.
I have gone through four name changes in my life:  I was born 1965 as David Christopher Schofill, was adopted after divorce by my stepfather around 1971 to become David Christopher Aldwinckle, became Sugawara Arudoudebito (due to koseki woes) when I naturalized into Japan 2000, and then had the Sugawara legally removed from my koseki in 2006 by Japanese court weeks after my divorce to become Arudou Debito.  Hiya.
But I have been so far removed from family, any family, my entire life (birth father, step father, and mother all moved far away from their birth roots, and my mother severed almost all contact with the Schofill Clan after the divorce; I've furthermore been excommunicated by my parents since my naturalization) that receiving these fat books of family lore was a very pleasant surprise and unprecedented experience for me.
So here's what I've gleaned:  I have a picture of Philip Schofill, my great great great great grandfather, born March 31, 1803 in Lexington, South Carolina.
This is of course a photo of him (undated) at an advanced age, when photography was possible.  He died March 3, 1891 at the age of 88 (quite an accomplishment for that era).  It seems male longevity runs in the family (happy to see), but so does, from what I've also heard, alcoholism, violence, and ill-temper (the last one I can understand:  I've felt the spiral of rage plenty of times; why do you think I write so much?)  If bad habits don't get you first (my major vice is high-fat foods), looks like I come from good stock for a long life.  But Philip above, from his visible demeanor and also family lore, was a nasty-sounding cuss.  The family, from the American South (and England before that), has plenty of Southern predispositions, including slaves (Philip was apparently "mean" towards them, to put it mildly), deaths in the Civil War, and possible KKK connections.  Not something I'm particularly proud to be related to.  But it's history, and should be acknowledged.  Philip also has a history of remarriage, getting his second wife at age 83!  I'm not sure I'll wait that long.
The oddly-spelled name of Schofill (often confused with Schofield), according the materials I received, "was found to be spelled Schofield, Schofill, Scofil, Scoldfield, Scovel, Scovill, Coffell, and others.  The different spellings were noted on wills, land records, census reports, etc.  Since many people could not read or write, whoever was doing the writing spelled names as they were sounded."  Hence I've gone through life with a name that nobody will ever quite get without a spelling, be it Schofill, Aldwinckle, Arudoudebito, or Arudou.  It also makes me very sensitive towards spelling and pronouncing other people's names correctly (my favorite so far is Dimagmaliw, a Filipine name).
What's also an interesting find is that Philip Schofill's father was, according to family legend, a Cherokee Indian by the name of Red Feather, before marrying a settler and taking the name Reese Busbee.  Here's a photo (undated):
So that means that I'm 1/128th Cherokee, which translates to about a pound and a half of my flesh; better not diet).  Might matter in Canada.
Every family has some interesting stuff within, good and bad.  It's history.  And I want to thank the senders of those lovingly hand-crafted family history books for clueing me in after close to a half-century of my lifespan.  Tangent ends.  Arudou Debito in Sapporo