mytest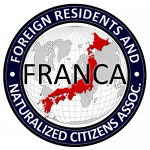 UPDATES ON TWITTER: arudoudebito
DEBITO.ORG PODCASTS now on iTunes, subscribe free
Hi Blog.  Here we go again.  Something critical of Japan becomes derided as "anti-Japanese" and is threatened if it gets shown in Japan.  This society has to learn that criticism of Japan is actually good for Japan, and that bully boys who want to suppress healthy debate about an issue should be ignored or criticized themselves as unhealthy and unconstitutional.  Yet protests by The Left go ignored because they probably won't get violent, while protests by The Right just might, and the police won't prosecute if they do.  Hence the incentive to become violent is there for the bullies, and they get even more power through intimidation.  Canceling showings of a controversial movie like this just strengthens the bullies and helps them proliferate.  Arudou Debito in Sapporo
PS:  Do what another Debito.org Reader suggested yesterday:  Get a copy of The Cove and show it to your friends and students.  Amazon.co.jp has had no problem selling right-wing and racist literature in Japanese, so why not?  (Now, if only they would get around to putting up a version in Japanese.  Here's information on The Cove in Japanese from the directors.)
//////////////////////////////////////////////
Dolphin hunt film screenings cancelled in Tokyo
Scientific American/Reuters June 5, 2010 Courtesy of Ken'ichi
http://www.scientificamerican.com/article.cfm?id=dolphin-hunt-film-screenings
TOKYO (Reuters) – Tokyo screenings of "The Cove," an Oscar-winning documentary about a grisly annual dolphin hunt have been canceled over planned protests by conservatives who say the film is anti-Japanese, the distributor said on Saturday.
The film, which picked up an Oscar for best documentary feature this year, follows a group of activists who struggle with Japanese police and fishermen to gain access to a secluded cove in Taiji, southern Japan, where dolphins are hunted.
Directed by former National Geographic photographer Louie Psihoyos and featuring Ric O'Barry, a former dolphin trainer from the "Flipper" television series, "The Cove" has prompted activists to threaten street demonstrations.
Planned showings of the film at two cinemas in Tokyo this month have been canceled because of fears the protests might inconvenience movie-goers and others, according to Unplugged, the Japan distributor.
Screenings at one Osaka theater have also been called off, but Unplugged is still in negotiations to show the movie at 23 venues around the country this summer, said a spokeswoman for the company, who asked not to be named.
Unplugged has received threatening phone calls and protesters have gathered outside its offices, she said.
"'The Cove' is absolutely not an anti-Japanese film," Takeshi Kato of Unplugged said in a faxed statement. "I believe a deep and constructive debate is needed about the content of the film."
O'Barry, who is set to visit Japan from June 8, said Japanese film-goers should be allowed to see the documentary.
"It's not right that a small minority of extremists could take this right away from them," he said in a statement. "To do so is a clear threat to democracy."
The film was shown at the Tokyo International Film Festival last year, but has yet to be made widely available to the public.
Japan's government says the hunting of dolphins and whales is an important cultural tradition.
New Zealander Pete Bethune is currently on trial in Tokyo for boarding a Japanese vessel in an attempt to stop the annual whale hunt in the Antarctic.
(Writing by Isabel Reynolds; editing by Ron Popeski)
ENDS