mytest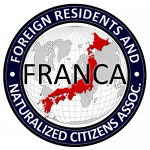 UPDATES ON TWITTER: arudoudebito
DEBITO.ORG PODCASTS now on iTunes, subscribe free
Hi Blog.  I received this message a few days ago.  It's self-explanatory.  Advice welcome.  Debito
//////////////////////////////////////
June 11, 2010
Dear Mr. Debito:
I am currently living in Japan and working as an English teacher in a small town. I have lived in this town for almost two years. In that time I have come across two very distressing problems and no clear way to solve them. Both take some time to explain. Please forgive me if this email is a bit lengthy:
I've been teaching private lessons to a sweet old Japanese lady for almost two years. Last September, she surprised me with an odd question:
"Sensei, would you like to learn Chinese?"
"Well," I said, "I'm already pretty busy studying Japanese at the moment. My plate is kind of full…"
"Well," she said, "I have a farmer friend with four Chinese girls working for him. They're very nice, and they're all young and beautiful…."
"You know," I said, "Learning another language is always a good idea."
I drove down to meet them. They're a really swell bunch of girls, and we became friends almost instantly. One day, I invited them out with my other friends to see a festival in a nearby town. It was then that I found out that:
They work every single day
They receive only 70,000yen a month
They are not allowed internet or a phone
After the workday, they must go back to the house which the farmer built for them and not come out.
This bothered me for a long time, but I didn't do anything because I thought it was Japanese law. Needless to say, I was pretty angry at Japan.
The farmer seemed okay with having people over, however, so I began to organize movie nights, parties, etc at the farm so the girls could hang out with other people and so more people could be aware of their situation. I've also been reading up on the Labor Standards Law, etc, and found that what the farmer is doing is illegal…in principle.
I debated for a long time about whether or not to call the cops on him. One thing that kept me from doing so was the possibility that the girls themselves might be here illegally, and my meddling would get them shipped back to China. However, this possibility seems less likely the more I talk to them. They appear to be on one of those three year "foreign trainee" programs I've been reading about.
Another possibility is that they handed over their freedom in order to earn an amount they couldn't dream of earning back home. They may be sending it back to their families who need it. I've found out a bit more; apparently the farmer does take them out sometimes, for shopping, hanami, even to the JLPT. One of the girls just recently passed nikkyu and is gearing up for ikkyu in the summer. The last thing I want is to ruin this for them. And yet I can't help but be angry at the farmer for denying them other basic things like freedom and a proper wage.
Yet another deterrent are all the stories of bad cops here. At best, they seem silly and useless; at worst, corrupt and dangerous. I don't want to get the girls in more trouble than they already are. Also, I figure if the farmer ever knew I'd even thought about calling the cops, that'd be the end of our little visits.
Then something happened to me that made me glad I'd kept my mouth shut:
My wallet was stolen. The police think it's probably a student who's been following me around recently, and who knows where I live, but refuse to approach him directly. We explained the situation to the principal, but he also refused, saying it was "impossible to ask a child something like that."
I've had several meetings with the Board of Education and the police, both of whom have told me in private that they are sure the kid did it, but are publicly saying I lost the wallet and suggesting I say the same, if know what's good for me.
I'm pretty sure I'm never gonna see that wallet again. I don't think there's much more I can do about it. Pretty much, I've decided to regard this as a really, really expensive lesson on Japanese culture. Expensive, but also valuable. I'm just glad nobody was hurt and it was only my wallet.
However, I am worried about my identity. I've heard that thieves here sell stolen wallets to the yakuza and then the yakuza can frame you for a crime. What steps can I take against that? If it was the kid, then I don't have to worry, but there were other people there that day. I think once the cops won the argument about the kid, they stopped the investigation. They're not even looking anymore.
Maybe I'm being paranoid. I dunno. It seems unlikely that I could get framed for something if I have my own license on me. But then again…this is Japan. Stranger things have happened.
At least now I know not to tell the cops about the girls. Odds are they know already, and can't or won't help. I've researched further and found that being in one of these "foreign trainee" programs excludes you from protection of the Labor Standards Law, injury compensation, etc. I think steps were taken a while ago to correct this (after the first year, you change from "trainee" to "worker"?), but I'm not sure if they succeeded or how effective they are. I'm still researching.
So that's where I am now. The wallet seems to be a lost cause at this point, but I really want to help my friends. I'm a bit in over my head, however, and would greatly appreciate any advice you have for me. I've read some cases where foreign laborers were able to escape to safe places and get compensation for their mistreatment. I would like to see this happen, but I don't know where to go or who to ask. I've been very careful in regards to the farmer; he still lets me and my friends come over and I don't think he suspects I'm having these thoughts. If he did, we'd likely never see the girls again.
I know I only have one chance at this, which is why I've been waiting. I'm not a patient guy; this is probably the most patient I've ever been about anything in my life, simply because I'm scared to death of botching it. But waiting is also painful. I feel terrible for doing nothing. Please help, if you can, and thank you.
ENDS