mytest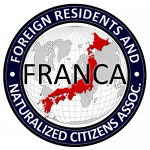 UPDATES ON TWITTER: arudoudebito
DEBITO.ORG PODCASTS now on iTunes, subscribe free
Hi Blog.  In an article cited in yesterday's blog post, we had some xenophobe who organizes anti-NJ-suffrage campaigns saying:
"I'm not prejudiced against foreigners, but the law states that foreigners must not take part in election campaigns."
There goes a typical zealot making a typically empty unresearched claim.  According to the Japan Times this week, NJ can indeed take part in election campaigns.  Excerpt:
=====================================
THE JAPAN TIMES ZEIT GIST June 22, 2010
Can't vote? No problem, you're empowered!
Sure, we foreigners don't have the right to vote (yet), but we can still get involved. Here's how to make yourself heard
By RONALD KESSLER
What are you planning to do with yourself this summer? If you're Japanese, have you given any thought to the country's upcoming Upper House elections?
Here's a more intriguing question: If you are non-Japanese, have you given any thought to the upcoming Upper House elections? Hmm, I can just imagine many of you readers out there thinking, "Intriguing?! What's so intriguing? I don't even have the right to vote!"
Well, okay, you're right — you don't. But haven't you learned by now that it's often better to look at the positives of a situation instead of the negatives? As you're about to see, the wide range of roles Japan's foreign residents are allowed to play in the country's political activities and elections offer a surprisingly good opportunity to practice what we fondly refer to as "glass half-full" thinking.
We CAN get involved!
Although foreign residents may not be able to actually cast votes in elections, there are quite a few other things that we can do to involve ourselves in Japan's political "machine" — and they are all legal. This tidbit of knowledge may come as somewhat of a surprise to Japanese and non-Japanese readers alike, but I assure you that it's all verifiable in black-and-white. Well, to be totally honest, you'll find this truth "told" more in white than black, as the Election Law is much more revealing in terms of what is not written on its pages than what is. The point is simply this: Although the law doesn't directly state that foreign residents can participate in political and electoral activities, it also does not prohibit us from doing so. You can check it out for yourself; the Free Choice Foundation has posted the election rules in English on its Web site at www.FreeChoice.jp/election.asp or you can call the Election Division of the Ministry of Internal Affairs and Communications to hear it straight from the powers that be. The bureaucrats will be happy to tell you that, other than not being able to make political donations, residents of Japan are immune from discrimination of any kind — including by nationality — regarding participation in electoral activities.
Rest of the article at http://search.japantimes.co.jp/cgi-bin/fl20100622zg.html
ENDS
COMMENT:  I've done it.  It's fun.  Give it a try.  And get your voice heard that way.  Arudou Debito in Sapporo