mytest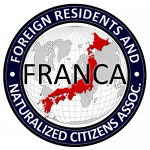 UPDATES ON TWITTER: arudoudebito
DEBITO.ORG PODCASTS now on iTunes, subscribe free
Hi Blog.  We haven't talked too much about the upcoming July election (mainly because it's not that big a deal, what compared with the seiken koutai election last August) for the Upper House, but here's a little article that is germane to Debito.org:  The LDP and other rightists are still playing up the NJ PR Suffrage Issue, even though it's not even a platform plank in this election (the DPJ Manifesto does not mention it this time) in a rather lame (and xenophobic) attempt to gather votes.  Nothing quite like bashing a small, disenfranchised minority to make yourself look powerful and worthy of governance.  Excerpt follows.  Arudou Debito in Sapporo
///////////////////////////////////////////////
Japan Times Saturday, July 3, 2010, courtesy of JK
CHUBU CONNECTION
Foreigner suffrage, separate surnames stir passions in poll runup
Whether to grant permanent foreign residents voting rights for local-level elections and allow married couples to keep their respective surnames have become contentious issues ahead of the July 11 Upper House election.
The ruling Democratic Party of Japan, which advocates the introduction of foreigner suffrage and separate surnames for married couples if desired, faces strong opposition from conservatives in the Liberal Democratic Party and small parties, including its own ruling bloc partner.
Aichi Prefecture voters, however, are puzzled by the conservatives' fervor because the topics have yet to stir national debate…
The LDP and small conservative parties set out to oppose the ideas in their platforms, vying with the DPJ, which has liberal views on these issues. Some homemakers, who used to be the last to become involved in politics, now speak to people at the weekly rally of Inoue's group held at Kanayama Station in Nagoya.
"The pride of this country that has been built up by the Yamato (Japanese) race must be passed down to our children, otherwise there will be no future for the country," said Masahito Fujikawa, 49, an LDP-backed candidate in the Aichi electoral district.
Rest at http://search.japantimes.co.jp/cgi-bin/nn20100703cc.html