mytest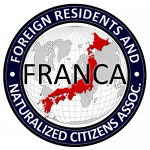 UPDATES ON TWITTER: arudoudebito
DEBITO.ORG PODCASTS now on iTunes, subscribe free
Hi Blog. Forwarding with permission.  Comment from me below.
================================
From: magazine@jetaany.org
Subject: URGENT: JET Programme in Danger – An Impassioned Request for your Help
Date: July 6, 2010 4:59:39 AM JST
To: debito@debito.org

Dear Mr. Arudou:
Please allow me to introduce myself. My name is Justin Tedaldi, and I am the editor of JQ Magazine New York, a publication of the JET Programme Alumni Association of America's New York Chapter. I also write about Japanese culture in New York for Examiner.com. I lived in Kobe City for about two years, and my first work experience out of school was as a coordinator for international relations with the JET Programme.
I'm a longtime follower of your site (over ten years), and I would like to ask your help on behalf of all the JETs worldwide. As part of Japan's efforts to grapple with its massive public debt, the JET (Japan Exchange & Teaching) Program may be cut. Soon after coming into power, the new government launched a high profile effort to expose and cut wasteful spending. In May 2010, the JET Program and CLAIR came up for review, and during the course of an hourlong hearing, the 11-member panel criticized JET, ruling unanimously that a comprehensive examination should be undertaken to see if it should be pared back or eliminated altogether. The number of JET participants has already been cut back by almost 30 percent from the peak in 2002, but this is the most direct threat that the program has faced in its 23-year history.
We are asking JET Program participants past and present, as well as other friends of the program to speak out and petition the Japanese government to reconsider the cuts. Please sign this petition in support of the grassroots cultural exchange the JET Program has fostered and write directly to the Japanese government explaining the positive impact the Program has made in your life and that of your adopted Japanese community.
http://www.change.org/petitions/view/save_the_jet_program
Any effort you can make to pass along the petition link below or include as a posting on your site would be most appreciated. I am also open to e-mail interviews for the Examiner if you would like to discuss this further.
Thank you for your attention, and please let me know if you have any other questions.
Best regards,
Justin Tedaldi
Editor
JQ Magazine New York
http://jetaany.org/magazine
==================================
To: uschapters@yahoogroups.com; aadelegates@yahoogroups.com
From: president@jetaany.org
Date: Mon, 5 Jul 2010 12:21:09 -0700
Subject: [uschapters] Save JET and JETAA – Sign the Petition
Mina-sama:
As you recently were notified, the JET Program and JETAA are on the chopping block. More detail can be found at the link below.
In addition to sending your anecdotes and JET Return On Investment stories/videos to Steven Horowitz at stevenwaseda@jetwit.com, please sign the petition below to demonstrate your support. This is for anyone to sign, so please forward to your friends and family to demonstrate the hundreds of thousands of people that have been positively impacted by these meaningful programs. Thank you for your support.
http://www.change.org/petitions/view/save_the_jet_program
Sincerely,
Megan Miller Yoo
President, JETAANY
APPEAL ENDS
///////////////////////////////
COMMENT: I have of course written about JET in the past:
https://www.debito.org/?p=294
And here:
https://www.debito.org/HAJETspeech.html
In sum, although I have never been a JET myself, I am a fan of the JET Programme. The program has its flaws, but overall its aim, of ameliorating insular tendencies within Japanese society, is an earnest and genuine one. I would be sad to see JET go, as its loss would be a detriment to Japan's inevitable future as a multicultural society.
Sign the online petition if you want. I have. What are other people's thoughts and experiences about JET? Is it fat to be cut from the budget, or an indispensable part of Japanese intercultural education? Arudou Debito in Sapporo
UPDATE: I just remembered, I did a paper on JET's goals way back when. You can read the full text of it here.
研究ノート
INTERNATIONALIZATION THROUGH TRANSPLANT EDUCATORS:
THE JET PROGRAMME PART ONE
By David C. Aldwinckle, Assistant Professor
Faculty of Liberal Arts, Hokkaido Information University
Hokkaido Jouhou Daigaku Kiyou
Vol 11, Issue 1, September, 1999

Keywords: Internationalization, Public Policy in Japanese Education, The JET Programme
SUMMARY
Internationalization, or kokusaika, has become a buzzword in Japan through its attempts to become an outward-looking, "normal" country in international circles. To this end, the Japanese government over the past ten years has sponsored the Japan Exchange and Teaching (JET) Programme, which offers educational internships of one to three years for young college graduates from English-speaking countries. These teachers, acting as assistants to native Japanese English teachers in Japan's smaller-town junior and senior high schools, have been expressly charged with increasing Japanese contact with foreign countries at the local level. As the first in a series, this research paper will seek to outline the structure of JET, critique its goals, and briefly focus upon its operations in one locale, Hokkaido, as a means of case study.
https://www.debito.org/JETjohodaikiyo999.html