mytest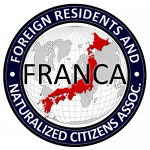 UPDATES ON TWITTER: arudoudebito
DEBITO.ORG PODCASTS now on iTunes, subscribe free
Hi Blog.   As another angle to the subject of the documentary The Cove, here we have Japan Times naturalist columnist (and fellow naturalized citizen) C.W. Nicol offering his view on what's going on in Taiji. What's interesting is his take on the matter of animal cruelty. Although he supports whaling as an issue and has no truck with tradition involving hunting of wild animals, what gets him is what the hunt does to the people in the neighborhood. I'm reminded of what goes on at Pitcairn Island (you get a society removed enough long enough from the authorities, they'll invent their own rules, even if at variance with permissible conduct in society at large, and claim it as tradition). It was another reason for me personally to feel the conduct at Taiji is reprehensible.
The problem is that although Taiji is a small community, once it's claimed to be "Japanese tradition", you get one of the world's most powerful economies behind it.  Then all manner of issues (Japan bashing, economics, a general dislike at the national level of having outsiders telling Japan what to do, fear of right-wing repercussions, and corruption of culturally-tolerant debate arenas overseas) adhere and make the debate murky. Arudou Debito in Sapporo
//////////////////////////////////////
The Japan Times Sunday, July 4, 2010
OLD NIC'S NOTEBOOK
A meeting of minds (excerpt)
http://search.japantimes.co.jp/cgi-bin/fe20100704cw.html
Last month, dolphin-welfare campaigner Ric O'Barry visited me in the Nagano hills, where we discussed the Taiji dolphin cull and what's happening to marine mammals worldwide
By C.W. NICOL
In 1958, just before my 18th birthday, I went along on an Inuit hunt for seals in the Canadian Arctic. That was the first time I tasted that rich, dark red — almost black — meat, and it was like nothing else I had eaten before. I loved it.
Inuit hunters still used kayaks back then (and so did I) and I felt nothing but admiration for those men who went out into icy waters in such a flimsy craft, risking their lives to bring back food, fuel and the raw material for boots and clothing. In the many trips I have made to the Arctic since then, that feeling has never changed.
Then, in 1966, I first sailed aboard a whale-catcher, with a mixed Canadian and Japanese crew, hunting for sei and sperm whales off the west coast of Canada. Whale meat was on sale in pretty well every fish shop in Tokyo in the early 1960s when I first came to this country, so I had already come to appreciate its taste. Since then I have been on many marine mammal hunts — for seals, beluga, walrus and whales — and I retain enormous respect for the courage, skill and seamanship of those who take food from the sea.
That, however, is a stance that has made me unpopular with many antiwhaling folk around the world.
Nonetheless, in October 1978 I went to Taiji in Wakayama Prefecture to live in the town for a year and research the history and culture of Japanese whaling for a book I aimed to write — a book that turned out to be my novel, "Harpoon." The anti-whaling movement was beginning to display some nasty anti-Japanese tendencies just then, and I thought it might be mollified by some understanding, through my book, of the whalers' long background…
What horrified me in Taiji was that the dolphins were not harpooned, and thus secured to be quickly dispatched. Instead, the hunters were simply throwing spears into a melee of the animals swimming in a small inlet they had sealed off from the sea, hitting them here and there. Then they'd retrieve the spear by hauling in a rope tied to it and hurl it again or use it close up to stab with. This was a far cry from the efficiency — and respect for life, and death — of an Inuit hunter or a whaler at sea.
That first time I witnessed the Taiji killings, I saw a dolphin take 25 minutes to die, while on another hunt I saw one that thrashed and bled for a horrible 45 minutes before it succumbed to its wounds. Killing, if justified and necessary, should surely be merciful and quick — yet I even saw an old grandmother laughing at a dolphin's death throes and pointing out the animal to the small child with her as if it was some kind of joke. That really hurt and shook my belief in people.
In addition to this catalog of horrors, though, as a former marine mammal research technician in Canada, it shocked me that all those dolphins were being captured and killed with no government inspector or fisheries biologist on hand to take data and monitor the kill. I protested about what was going on to the fishermen, and to Town Hall officials in Taiji. I even went to Tokyo and protested to a senior official in the Fisheries Agency, but he just sneered and said, "What does it matter, they die anyway."…
Rest of the article at
http://search.japantimes.co.jp/cgi-bin/fe20100704cw.html