mytest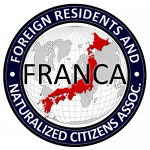 UPDATES ON TWITTER: arudoudebito
DEBITO.ORG PODCASTS now on iTunes, subscribe free
Hi Blog.  Here we have JIPI's Sakanaka-san in the Japan Times speaking out from a position of authority again in favor of NJ, this time regarding Japan's Immigration Detention Centers (aka Gaijin Tanks for visa overstayers) and their conditions.  As has been discussed here before, Gaijin Tanks are not prisons; they do not fall under the penal code for incarceration conditions, there is no arraignment before a judge or court sentence to fulfill, and there is no time limit to how long you can be incarcerated for visa violations in Japan.  This has deleterious effects on the physical and mental health of detainees, of course.  So Mr S. is quite magnanimously (given Japan's racially-profiling law enforcement) offering a compromise limit of one year behind bars.  Think there will be any takers?  Arudou Debito in Sapporo
///////////////////////////////////////////////
The Japan Times, Wednesday, July 14, 2010
Ex-immigration boss: detentions too long (except)
By MINORU MATSUTANI, Courtesy lots of people.
http://search.japantimes.co.jp/cgi-bin/nn20100714f1.html
Illegal residents should not be held in detention for more than one year because any longer causes too much stress, a former chief of the Tokyo Regional Immigration Bureau said, noting extended incarceration led to two hunger strikes at detention centers this year, one of which followed suicides.
"One year of confinement is mentally tough," Hidenori Sakanaka, now director general of the independent think tank Japan Immigration Policy Institute, said in a recent interview with The Japan Times. "If that becomes a rule, bureau officials will try really hard to investigate thoroughly whether detainees warrant deportation or temporary release. They will work efficiently."
He said he was unsure if applying a one-year rule would lead to an increase in detainees being granted temporary release or would trigger a rise in deportations, but added, "the Immigration Bureau must stop suicides and hunger strikes."
There is no limit on how long the government can hold foreign residents deemed to be in Japan illegally. The Immigration Bureau's Enforcement Division said 71 inmates out of 442 being held in three detention centers in Ibaraki, Osaka and Nagasaki prefectures had been confined for more than a year as of May 31.
Dozens of detainees went on hunger strikes lasting more than a week at the East Japan Immigration Control Center in Ushiku, Ibaraki Prefecture, in May and at the West Japan Immigration Control Center in Ibaraki, Osaka Prefecture, in March. They were demanding better treatment, including limiting their incarceration to six months…
The hunger strikes failed to win any concessions...
Rest at http://search.japantimes.co.jp/cgi-bin/nn20100714f1.html