mytest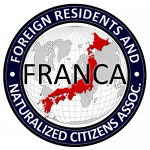 UPDATES ON TWITTER: arudoudebito
DEBITO.ORG PODCASTS now on iTunes, subscribe free
Hi Blog. In another case of NJ dying in Immigration's custody, we have a person who came to Japan this weekend, apparently felt ill, allegedly tried to escape from Immigration's questioning, and died in custody after "being subdued".
Now while there are insufficient details to determine whether foul play was involved, it has been documented how rough Immigration can be towards people in their care, with for example "being subdued" leading to death in the Suraj Case earlier this year. Since Immigration (aka "Japan's Bouncers") still hasn't come clean about what happened there, this is yet another case worth mentioning on Debito.org.  JT article follows, courtesy of Kevin. Arudou Debito in Sapporo
///////////////////////////////////////////////////
Japan Times Tuesday, July 27, 2010
Ailing Kansai arrival dies after interrogation, bid to flee
By ERIC JOHNSTON
http://search.japantimes.co.jp/cgi-bin/nn20100727a5.html
OSAKA — A 55-year-old African man complaining of illness who arrived at Kansai airport Sunday evening with a Belgian passport died after a lengthy interrogation and escape attempt, immigration officials said Monday.
The man, whose name is being withheld by authorities, landed at Kansai International Airport from Ghana via Dubai at about 6:20 p.m. Sunday. Saying he felt ill, he was put in a wheelchair and taken to the immigration line upon arrival, according to the officials.
He refused to cooperate with immigration officials, who couldn't determine why he was in Japan, and was taken to the airport immigration office for further questioning, said immigration official Yuichi Suzuki.
Immigration officials said his passport appeared valid and no suspicious substances were found in his luggage. At around 9:30 p.m., after nearly three hours of questioning, the man no longer appeared to need a wheelchair.
At about 10:30 p.m., Suzuki said, the man suddenly tried to flee the immigration office and was subdued by police and immigration officials.
He stopped moving and collapsed and an ambulance was called, but he died about an hour after arriving at a hospital in the city of Izumisano, about 15 minutes from the airport.
ENDS