mytest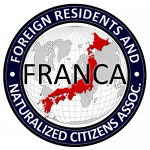 UPDATES ON TWITTER: arudoudebito
DEBITO.ORG PODCASTS now on iTunes, subscribe free
Hi Blog. As a tangent (but a very interesting one) is the biggest news story the past few days in Japan; Japan has some very old people who have gone missing or are long dead, but are still registered as living pensioners.
This of course calls into question two things:
1) The oft-cited claim that Japanese live longest in the world. With actually-dead people nudging up the average, and the possibility that the oldest people are only that way because nobody has checked on them in thirty years, this source of national pride has given way to questions of the efficacy of Japan's Kokusei Chousa (National Census) system, which has somehow missed recording these people for decades (or in all probability, enabled horrific scams of "baachan in a freezer" while her pensions keep getting collected).
and 2) (and this is why it's tangentially related to Debito.org), it calls into question the efficacy of the Juuminhyou and Koseki systems too. Although any formal registry system might miss people who are not being noticed or are being deliberately hidden, it's funny to find a centarian registered as living at a car park. But it's not funny when you realize that taxpaying NJ are not registered as "spouse" on the Koseki Family Registry system, or even as visible residents and family under the Juuminhyou Residency Certificate system. Meanwhile, long-dead people are, just because they're Japanese. It's screwy. It's an angle that has not been covered in the debate on this. But it oughta be.
Read on for the first article I read on this issue. If you see any more that cover other important angles, send them on with links, thanks. Arudou Debito in Sapporo
/////////////////////////////////
Tokyo's oldest listed person, age 113, is missing
By MARI YAMAGUCHI
Associated Press August 3, 2010
http://www.google.com/hostednews/ap/article/ALeqM5jK7v2YLnsB_Ih0SuHlVgZSpnrL6AD9HC0I080
TOKYO (AP) — A 113-year-old woman listed as Tokyo's oldest person is missing, officials said Tuesday, days after the city's oldest man was found dead and mummified.
Fusa Furuya, born in July 1897, does not live at the address in the Japanese capital where she is registered and her whereabouts are unknown, Tokyo Suginami ward official Hiroshi Sugimoto said.
Her disappearance surfaced just days after the shocking discovery last week that Tokyo's oldest man, who would have been 111 years old, had actually been dead for decades.
Officials said that they had not personally contacted the two oldest people for decades, despite their listing as the longest-living in the city. They apparently found out that the man was dead, and Furuya missing, when they began updating their records ahead of a holiday in honor of the elderly that is to be observed next month.
Officials visited Furuya's apartment last Friday, but her 79-year-old daughter said she has never lived there.
The daughter, whose name was not disclosed, told officials she was not aware of her mother's registration at that address and said she thought her mother was just outside Tokyo with her younger brother, with whom she has lost touch.
But when officials checked that address they found a vacant lot.
Officials are also looking for a 106-year-old man who is missing in Nagoya, central Japan, Kyodo News agency reported. The Asahi newspaper said three more centenarians were unaccounted for.
The number of centenarians in Japan has been rising for decades.
Japan has 40,399 people aged 100 or older, including 4,800 in Tokyo, according to an annual health ministry report last year marking a Sept. 21 holiday honoring the elderly. Each centenarian receives a letter and a gift from a local government office — usually by mail.
In the earlier case, police are investigating the family of the man found dead and mummified on suspicion of abandonment and swindling his pension money. Sogen Kato is believed to have died 32 years ago after he had retreated to his bedroom, saying he wanted to be a living Buddha.
Health and Welfare Minister Akira Nagatsuma has urged officials to find a better way to monitor centenarians, but local officials say it is hard to keep track because their families are often reluctant to receive official visits.
Many also send their elderly relatives to nursing homes without doing the proper paperwork.
AP-ES-08-03-10 0506EDT
ENDS