mytest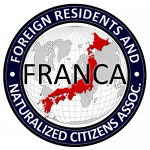 UPDATES ON TWITTER: arudoudebito
DEBITO.ORG PODCASTS now on iTunes, subscribe free
Hi Blog. While doing some research yesterday, I found out this interesting development:
Debito.org (via The Community) originally reported about a decade ago that the Takamado English speech contest, for junior-highschooler English speaking ability name-sponsored by a member of the Japanese royalty, was refusing foreign children enrolled in Japanese schools entry. This might seem reasonable, since native English speakers competing with Japanese L2 students would indeed have an unfair advantage.
However, Takamado's rules excluded ALL foreigners, including those from countries that are not native English-speaking countries (such as Chinese or Mongolians). Moreover, the rules also excluded ALL Japanese who had foreign blood, as far back as grandparents.  Archive:
https://www.debito.org/TheCommunity/takamadoproject.html
When the dubious practice of assuming that any foreigner had a linguistic advantage in English was raised with the organizers, they decided to keep the rules as is.  So I wrote about it for the Japan Times, dated January 6, 2004:
—————————————
Freedom of speech
'Tainted blood' sees 'foreign' students barred from English contests
https://www.debito.org/japantimes010604.html
… A prestigious event, name-sponsored by the late Prince Takamado, its goal is: "To create an internationally rich youth culture, both proficient in English and widely popular (sic), which aims to develop Japanese culture and contribute to international relations."
Yet its disqualifiers are oddly xenophobic: Rule 3: "If any of your parents or grandparents are foreigners (including naturalized Japanese) in principle you are excluded." Rule 2a: "If you are born in a foreign country and have stayed abroad past your 5th birthday," and; 2b: "If after your 5th birthday you have lived in a foreign country for over a total of one year, or if you have lived in a foreign country over a continuous six-month period," you may not enter the contest.
The organizers seemed to have forgotten that not all foreigners speak English…
—————————————
So now back to the present.  I checked the rules for Takamado yesterday, and here's how they've been revised:
—————————————
Students recommended by their school principal and attending a Middle School in Japan (excluding International and American Schools).
Students who fall into any of the following categories are not eligible to participate in the contest:
Those who were born and raised in English speaking countries/regions* beyond the age of five.
Those who lived in English speaking countries/regions or studied in International and American Schools beyond the age of five for a total of one year or six months continuously.
Those whose parent or grandparent with nationalities of English Speaking countries or naturalized Japanese, having lived in Japan for less than 30 years.
Those who won 1st to 3rd places in any previous contests.
Those that violate the above clauses and enter the Contest will be disqualified.
*Below are the definitions of the English speaking countries. (Defined by the Ministry of Foreign Affairs)
Republic of Singapore, Democratic Socialist Republic of Sri Lanka, Democratic Republic of Timor-Leste, Republic of the Philippines, Negara Brunei Darussalam, Malaysia, Commonwealth of Australia, Republic of Kiribati, Independent State of Samoa, Solomon Island, Tuvalu, Kingdom of Tonga, Republic of Nauru, New Zealand, Republic of Palau , Federated States of Micronesia, Republic of Vanuatu, Independent State of Papua New Guinea, Republic of the Fiji Islands, Republic of the Marshall Islands, United States of America, Canada, Antigua and Barbuda, Republic of Guyana, Grenada, Jamaica, Republic of Suriname, Saint Vincent and the Grenadines, Federation of Saint Kitts and Nevis, Saint Lucia, Commonwealth of Dominica, Republic of Trinidad and Tobago, Commonwealth of The Bahamas, Barbados, Belize, Republic of Uganda, Federal Democratic Republic of Ethiopia, Republic of Ghana, Republic of Cameroon, Republic of The Gambia, Republic of Kenya, Republic of Zambia, Republic of Sierra Leone, Republic of Zimbabwe, Republic of the Sudan, Kingdom of Swaziland, Republic of Seychelles, Somalia, United Republic of Tanzania, Federal Republic of Nigeria, Republic of Namibia, Republic of Botswana, Republic of Malawi, Republic of South Africa, Republic of Mauritius, Republic of Liberia, Republic of Rwanda, Kingdom of Lesotho, Republic of Cyprus, Lebanese Republic, Ireland, United Kingdom of Great Britain and Northern Ireland, Republic of Malta, Cook Islands, Niue, Hong Kong Special Administrative Region, India, Islamic Republic of Pakistan
http://www.jnsafund.org/en/ptt61st/details.html
—————————————
Now that's more like it.  Took some time, but it looks like they added some sophistication to deeming who has a linguistic advantage.  No longer is it a blanket system of "a foreigner is a foreigner is a foreigner", and the attitude is less that any foreigner is a blanket tainter of Japanese student blood.  Okay, better. Pays to say something.  Especially in print.  Arudou Debito on holiday