mytest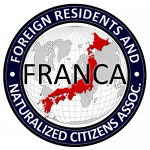 UPDATES ON TWITTER: arudoudebito
DEBITO.ORG PODCASTS on iTunes, subscribe free
Hi Blog. The Globe and Mail (Canada) makes a case that a groundswell of far-rightism in Japan is even worrying the entrenched far-rightists.  Putting this article up for comments. While in Canada, I was contacted by the CBC Radio One for an interview on Japan's immigration issues (that interview happened on Monday morning, recorded in Calgary). Perhaps this issue is making the rounds within Canadian media?  Arudou Debito in Sapporo
/////////////////////////////////////
October 5, 2010
A black sun rises in a declining Japan
By MARK MacKINNON
From Wednesday's Globe and Mail (Canada)
Amidst another decade of economic stagnation, far-right nationalism threatens the country's foundation
http://www.theglobeandmail.com/news/world/asia-pacific/a-black-sun-rises-in-a-declining-japan/article1744434/
Courtesy of MS and AC
Until recently, it was the likes of Mitsuhiro Kimura that worried Japan's political mainstream. The leader of the far-right Issuikai movement, he counted Saddam Hussein and French far-right leader Jean-Marie Le Pen among his allies, and created friction with Japan's neighbours by loudly denying the country's Second World War crimes.
But now Mr. Kimura is among those concerned about a new breed of extremists, who are capitalizing on the bruised pride and swelling anger in Japan with a brand of politics that makes even a friend of the former Iraqi dictator uncomfortable. As this country staggers through a second decade of economic stagnation, and suffers the indignation of being eclipsed by historic rival China, there's a common refrain coming from the growing ranks of this country's young and angry: Japan must stand up for itself – and that foreigners are to blame for the country's ills.
Take the past week alone. Infuriated by a perceived Japanese climbdown in a dispute with China over an island chain that both nations claim, right-wingers tossed smoke bombs at the Chinese consulates in the cities of Fukuoka and Nagasaki. Another man was arrested with a knife in his bag outside the Tokyo residence of Prime Minister Naoto Kan. On Friday, a motorcade of 60 cars organized by a right-wing group briefly surrounded a bus carrying Chinese tourists in Fukuoka, prompting Beijing to issue a warning to its citizens about the dangers of visiting Japan.
No one was hurt in any of the incidents. But they highlight a tide of rising nationalism that is just one of the new social ills afflicting a country that 20 years ago was the richest and most stable on the planet. Two consecutive "lost decades" and a dearth of political leadership – five prime ministers in the past four years – have unmoored Japan.
"There is a deepening sense that society is at an impasse," Mr. Kan told an extraordinary session of Japan's parliament convened last week. He went on to list off Japan's many and deepening problems: economic stagnation; rising unemployment; an aging society and the highest suicide rate in the developed world.
One issue Mr. Kan didn't mention is that more and more Japanese are turning away from traditional politics and embracing extremist ideologies laced with chilling hints of the country's militaristic history.
On Saturday, an estimated 2,700 rightists marched through Tokyo's main shopping district, decrying the government's perceived weakness in the dispute with Beijing and calling for Chinese and Koreans to leave Japan. Several smaller anti-Chinese and anti-foreigner marches took place again Sunday, with some in the crowd wearing military-style black uniforms and others waving the Rising Sun flag the country's military flew while conquering nearly all of East Asia during the Second World War.
"If you are not tough enough to stand up for Japan, get out of Japan! We need to fight against China!" a member of the extremist Zaitokukai movement shouted through a bullhorn Sunday morning, his anger echoing through the high-end shopping malls and coffee shops of Tokyo's Shibuya district.
Another marcher switched targets when it was his turn at the bullhorn. "Throw illegal immigrants into Tokyo Bay!" he yelled to loud cheers from his fellow marchers and silent stares from shoppers who paused to watch the procession. If anyone disagreed with the sentiment, no one said so publicly.
The weekend rallies were organized over the Internet by new right-wing organizations that, unlike their predecessors, don't play by the staid rules of Japanese politics. Dubbed the "Net far right" by local media and police, groups such as Zaitokukai have capitalized on the anger and despair many Japanese feel as this proud country struggles to come to grips with its economic malaise, as well as a sense that Japan is losing relevance and respect on the international stage. Founded three years ago, Zaitokukai claims to have more than 10,000 active members, with several times that number quietly following them and reading their xenophobic postings online.
"These Net right-wingers have no rules, no restrictions … . I'm against this kind of hate speech, these ugly comments. Their thoughts and ideas are okay, but the way they express them is not," said Mr. Kimura, whose own Issuikai movement made headlines earlier this year by hosting an international gathering of right-wingers, including Mr. Le Pen, that featured a visit to the controversial Yasukuni shrine, which honours Japanese war dead, including several convicted war criminals.
The return of Japanese extremism is in many ways unsurprising. While economists fret over the country's slow overall growth and the threat of deflation, it's the microeconomic picture that can be truly shocking.
With unemployment at a historic high of over 5 per cent – a number that understates the problem since many Japanese have given up looking for work altogether – the newly homeless now fill the country's parks and Internet cafés. Twenty-three per cent of Tokyo schoolchildren will rely on government aid for things such as school supplies this year. Depression stalks the country and 26,500 people committed suicide in 2009, the highest rate in the world. If the Great Recession is over, it doesn't feel like the recovery has started yet in Japan.
As in Europe 80 years ago, blame for the country's troubles has fallen on foreigners. The No. 1 target is ethnic Koreans who live in Japan (Zaitokukai is the Japanese acronym for the group's unwieldy formal title, Citizens' Group That Will Not Forgive Special Privileges for Koreans in Japan), followed by the Chinese. A liberalized immigration system, which pundits across the spectrum agree is desperately needed to help deal with a rapidly aging population, is considered too sensitive to touch for any politician concerned about keeping his job in the next election.
"There are of course some similarities with the fascist and Nazi movements. Those who join Zaitokukai are the jobless and the underemployed, those on the periphery of the established society. They're disheartened, and they have a lot of frustration," said Gemki Fujii, a right-wing intellectual and author. However, he said that Zaitokukai is doomed to remain a fringe group because few Japanese admire the group's abrasive tactics.
But the xenophobia that Zaitokukai helps spread via the Internet and its street demonstrations appears to be taking hold in Japan, which has a long tradition of isolating itself from the world. Racist comments about the country's ethnic Korean and Chinese citizens are startlingly common, while other foreigners – including some long-term residents of Japan – say they also feel increasingly unwelcome, and complain of police harassment and rules that prevent non-Japanese from renting homes or gaining professional tenure.
While many of Japan's neighbours – including China and both North and South Korea – say Tokyo still needs to do more to atone for its wartime misdeeds, academics say the country is moving in the opposite direction.
"There's been a re-emergence of a right-wing, nationalistic discourse and reinterpretation of history," said Koichi Nakano, an associate professor of political science at Sophia University in Tokyo. "Go into a Tokyo bookstore and you're bound to run into piles of books that would not be acceptable in Western society – Holocaust denials and the such. If it were Germany, there would be a big scandal in the international community. But because it's Japan and [the books are] in Japanese, it makes it kind of invisible."
Despite its status as one of Japan's leading academic institutions, even Sophia University found itself on Zaitokukai's target list last year when a small crowd gathered in front of the campus gates to shout "Christians, get out of Japan!"
"Badmouthing Chinese or Koreans in a very racist way is so abundant that it doesn't even offend people any more," Prof. Nakano said. "There was a taboo and now the taboo is gone. They kind of things they say, even in the late 1990s were almost unthinkable."
ENDS