mytest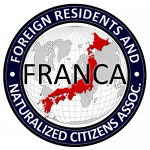 UPDATES ON TWITTER: arudoudebito
DEBITO.ORG PODCASTS on iTunes, subscribe free
Hi Blog. Here is a report from Chand Bakshi on how he called "basta" to a hotel that was racially profiling its customers, demanding all visually-looking NJ submit to an ID check and copy — claiming erroneously that this was required by law. Chand followed up on this to the point where he got capitulation and an apology. Well done.
This is actually pretty effective. The hotel I usually stay at in Tokyo has on various occasions (depending on how I was dressed) tried to Gaijin Card me too. I told them (and later followed up with an explanation to the management) that this only applied to tourists; NJ with Japanese addresses are not required to show ID. Of course, that's not what the NPA would have hotels believe — they have explicitly instructed hotels to inspect and photocopy ID of ALL NJ. Which is why we must fight back against this invitation to racial profiling, as Chand has below.
In my case, my Tokyo hotel yesterday asked me if I had a domestic address upon check-in (which I'm fine with). I pointed to my name on the check-in card and said, check your records — I'm not only a Japanese, but also a frequent customer. Got a deep apology. But at least now my hotel chain is more sophisticated in its approach.
Read on for Chand's report. Thanks Chand. Arudou Debito in Tokyo
//////////////////////////////////////////////////////////
October 7, 2010
Dear Debito,
I'd like to share a recent experience I had with a hotel that was discriminating against NJ and it's somewhat positive outcome.
I live in Kyushu and took a trip to Nagasaki with a Japanese friend; we decided to stay at the Richmond Hotel in Nagasaki. It's one of a countrywide chain.
http://www.richmondhotel.jp/en/nagasaki/index.php
When we checked in the staff asked for my passport or gaijin card. Now, since living in Japan I've had my share of bad hotel experiences, refused service etc, but I tend not to get too upset when asked for my gaijin card as I realize its often a communication error and what the staff really want is any ID from all customers and they just presume NJ are unlikely to have Japanese driving licenses etc. So I offered the staff my Japanese driving license instead. However they wouldn't accept it. They wanted a gaijin card or passport only. I explained to them that as a resident of Japan it wasn't required that I show my gaijin card to a hotel and any ID should suffice. They continued to insist I had to give them my gaijin card and I refused. I brought up the topic of discrimination and the staff seemed to have an automatic English response,
'It is not discrimination, it is required by law, please understand.'
Finally they accepted my driving license, as ID and all seemed ok, check in completed they handed over our keys and wished us a happy stay. I then realized they hadn't asked my Japanese friend for any ID. I asked them why they hadn't checked my friend. Their reply was 'only gaikokujin need to show ID, please understand."
I started telling them off again much to the embarrassment of my Japanese friend, a supervisor came and said rudely the now all too familiar line. 'It is not discrimination, it is required by law, please understand'
I asked what law, and was told 'the Ryokan Gyouhou, please understand it is not discrimination.'
As an avid debito.org reader I was pretty sure this was incorrect, but there was the chance the law had changed and more importantly my Japanese friend was becoming frustrated/embarrassed and wanted to get on with sightseeing so I let the issue drop.
When I returned home I check with Debito that the Ryokan Gyouhou hadn't changed and contacted the hotel again via telephone.
I got explained my unhappiness to various staff who where much more friendly over the phone than they had been in person. The lobby staff still kept saying it was required by law, but when I asked them if they had actually read the Gyouhou as I had they passed me up the management chain.
Finally I got to a lady who told me it wasn't actually the law but was in fact a request from the Nagasaki police, she listened to my concerns that I basically summarized as:
* NJ are particularly sensitive to discrimination in hotels as we are sometimes refused service.
*NJ aren't required by law to give their gaijin cards to hotel staff, they should ask for ID only, insisting on the gaijin card could be discrimination and ideally the word 'gaijin card' should never come out of hotel staff's mouths.
* Requiring ID from NJ and not Japanese is discrimination, no argument about it.
*Its racial profiling as my children could look NJ despite holding Japanese citizenship. And why wasn't my Japanese friend checked in case they were Zainichi Korean as they too hold gaijin cards.
*If they're collecting this data on NJ what is being done with it?
She said she understood, and that they were just following the police's instructions. Nothing was done with the copies of the IDs and they were shredded after a month.
I told her as the copy of my ID had been copied under a discriminatory policy I would like it returned to me.
The lady said she couldn't approve that but would get her boss to call me in a few days.
A few days later the manager, a Mr. Motoyama contacted me, he was very apologetic. They said that they were sorry they had offended me, and they would return the copy of my ID.
I told him I was concerned that this was going to happen again and what was their hotel was going to do about it. Mr. Motoyama said he would inform head office of the error and in his own hotel advise the staff to follow the Gyomhou not the instructions of the police and that this shouldn't happen again.
I asked him if this was because of the 2005 memo. (previously discussed on debito.org at https://www.debito.org/japantimes101805.html and www.debito.org/newhotelpassportlaw.jpg)
However Mr. Motoyama informed me that the police had asked for the information to be collected in 2007 when they visited the hotel in person.
They had been collecting copies of all 'gaijin's ' cards since then but hadn't actually been passing them to the police, just shredding them after a month.
A few days later the copy of my ID and an apology letter arrived in the post. (see JPEG attached.)

So this all had a fairly satisfactory outcome, however it's frustrating to constantly have hassle when traveling. Here the hotel staff were just being stupid. They had an automatic English response ready with their 'It is not discrimination, it is the law please understand." so, they must've been getting complaints fairly regularly. They should've read the Ryokan Gyouhou.
But the real culprits here are the police, I can understand how a Japanese might be tempted to follow instructions from the police without checking first if it was the law or not. Now I haven't contacted the police (yet), but this hotel problem isn't going to be solved one hotel at a time or even one police station at a time. It needs sorting out once and for all and I think we can do it.
We need to create some kind of guide/pamphlet/oshirase explaining the law. Maybe use some cute characters, 'anti-sabetsu chan or something'. Then we need to get it to every hotel in the country.
So if anyone wants to help out with this project over the next few months, has some ideas, or contacts, especially with how to distribute any notices we make to literally 1000's of hotels drop me a line at my email address:
chandbakshi AT gmail DOT com
To avoid the spam filters mark it 'hotels' or something. I'll look forward to hearing from people.
Chand
ENDS