mytest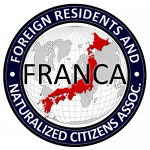 UPDATES ON TWITTER: arudoudebito
DEBITO.ORG PODCASTS now on iTunes, subscribe free
Hi Blog.  CRNJapan.net contacted me yesterday with a very useful checklist of things to do to legally protect yourself against child abductions IN .  Along the lines of Debito.org's "What to do if…?" page, this is one-stop shopping (if not a little paranoia-inducing) info site if you feel your relationship with a Japanese spouse is on the rocks.
I've said it before and I'll say it again because it is a harsh reality:

As Japan's Family Laws stand now, nobody — regardless of nationality — should get married to a Japanese and have kids.  Because if you divorce — or even separate — somebody will quite likely lose them completely.
Remember, in Japan there is no protection against abduction, no joint custody thanks to the koseki Family Registry system, no real guarantees of child visitation, and generally whoever kidnaps the kids gets to keep them even if you go to Family Court here. More at crnjapan.net.
Excerpt sans links follows:
http://www.crnjapan.net/The_Japan_Childrens_Rights_Network/res-jicck.html
Just In Case:  A Parental Abduction Preparedness Checklist

The Japan Children's Rights Network in response to the ever increasing number of International Parental Abductions to Japan has released a preparation guide for all of those in intimate relationships / Marriage with a Japanese citizen.  This guide is the "get your affairs in order" guide to making sure that when and if your Japanese significant other abducts your child you are prepared.  Please email webmaster@crnjapan.net with any questions / additions.
Here is a checklist of things to do if you are about to get a divorce, or if you are worried that the Japanese parent might try to take your children at some time in the future.  (Some of this applies generally to all kinds of child abduction and is advisable to do anyways, even if you are not worried right now.)  Some applies only if you are in Japan, and some applies only if you are not.

Make sure to store all information in a safe place where the child's other parent cannot get to it, such as a safe deposit box that only you can enter, or a friend or relative's home.  Also, to help ensure that others do not misuse this information, you as the parent should be the only person to keep this information about your child. You should be wary of gadgets and gimmicks that purport to protect your child or any sort of data-collection or registration services that store information about your child.  There is no substitute to collecting and storing this information yourself.
The List (a pre-divorce checklist)
1.Make sure that your marriage is registered on your Japanese spouse's Family Registry. (koseki).
2.Make sure that you are registered on the Japanese spouse's Family Registry. (koseki) as the parent of each of your children.  (You can order these from outside Japan with forms from here.)
3.Get copies of Japanese spouse's Family Registry. (koseki) and a current Residency Registration (juminhyou) from the appropriate local government office.  Note that foreign spouses are never listed on the actual juuminhyou, but if you ask, they may list you in the remarks section.  Make sure to request this so that you have proof that you were living together.  (Some government offices still wont do it, but many will.)…
Rest at
http://www.crnjapan.net/The_Japan_Childrens_Rights_Network/res-jicck.html
ENDS