mytest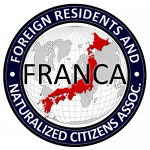 UPDATES ON TWITTER: arudoudebito
DEBITO.ORG PODCASTS on iTunes, subscribe free
Hi Blog.  Here's missive from a JKY, who claims that government-run unemployment agency Hello Work not only segregates by nationality for job offers, but also promotes companies that refuse otherwise qualified candidates just because their hiring practices are "Japanese Only".  He provides evidence that Zeus Enterprise Inc. of Tokyo Ginza is doing just that.  Since the Labor Standards Law forbids employment discrimination by nationality, the fact that a GOJ agency is doing this is shocking indeed.  But hardly out of character, alas.  Have a read.  Blogged with the author's permission.  Arudou Debito
///////////////////////////////////////////////////////
October 22, 2010
Hello Debito, I'm a Chinese-Canadian living in Japan and I am very supportive of your effort on anti-racism in Japan.
You mentioned in your website that you welcome people to submit "Japanese only" signs if they see one. So I decided to do so although this is from a company website on recruiting, not an actual shop sign.
I'm currently in the middle of looking for a job. I've been living in Japan for 10 years and because of my Asian look, Japanese language skill, and my adopted Japanese last name (from my wife), I have been facing less discrimination when applying a job, compared to many other foreigners. However every time when I visit the hellowork's foreigner section, I can always hear some employers routinely refusing applications from foreign residents, especially those from regions such as Africa, Middle East, and Southeast Asia. The foreign residents section itself is a discriminatory practice too as foreign residents have no other choice but are required to visit a segregated "foreigner section", even though in my case I do not need any language interpretation or counselling on Japanese life.
When I visited hellowork last week, as usual I have the staff phoning hiring businesses to introduce me as an applicant. Because all the jobs I apply require high level of trilingual (English, Japanese, Chinese) skill, most companies do not mind my background as a foreigner, however Zeus Enterprise, upon hearing that I'm a foreigner from the hellowork staff, rejected me as a valid applicant, saying that this position is for "Japanese only".
Source: http://www.zeus-enterprise.co.jp/recruit/b_coordinator.html
What I feel frustrated is that as a government agency, and as a "specialist" to assist foreign residents, hellowork's foreign section never actively counter-argue with employers. In almost all instances they'll simply say "I understand" and hang up, without stating that it's a discriminatory practice and is against general human rights.
I also find it appalling that Zeus Enterprise even dare to indicate their "Japanese only" requirement on their website. (Most companies nowadays only reject verbally but do not dare to write so explicitly on job postings).
I'll follow your suggestion to visit the local Jinken Yogo Bu for a discussion.
It will be great if there are more discussions on job discrimination against foreign and foreign-looking residents with legal employment right in Japan.
All the support from Chiba.
JKY, Chiba
ends