mytest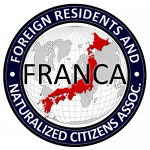 UPDATES ON TWITTER: arudoudebito
DEBITO.ORG PODCASTS now on iTunes, subscribe free
Hi Blog.  Eurobiz Magazine a couple of months ago ran an article talking inter alia about something I've called the "Gaijin Tax" for more than a decade now — the Re-Entry Permit system.  Thought of by some as a way of punishing the Zainichi Koreans etc. for staying behind in Japan (given all the incentives for them to leave after being stripped of colonial Japanese citizenship, moreover registered as foreigners in the late 1940's), the Re-Entry Permit actually is a tax with a profit motive — even the lecturer cited by Tony McNicol below states this openly about its proposed abolition:
Without re-entry permit income, currently ¥6,000 for multiple re-entry, the changes are likely to lighten the government's coffers. "This is a huge reduction in our revenue," said Matsuno. "The Ministry of Finance is angry."
What a piece of work our government can be.  Charging for visas for foreigners and passports for nationals is one thing (and I just paid 16,000 yen for a new ten-year Japanese passport; ouch).  But charging foreigners for their addiction to going "home" (or for even daring to leave Japan) with their visa held hostage, well, that's just as I've suspected all along — a mean-spirited means to sponge off the NJ population.  Good riddance to it.  Arudou Debito
//////////////////////////////////////////////////////////
Eurobiz Magazine August 2010
Your new alien registration card
Changes under the new Japanese immigration system
http://www.eurobiz.jp/content/2010/august/columns/event-report
By TONY MCNICOL, courtesy of the author
Applying and paying for a re-entry permit has long been an unavoidable nuisance for foreign businesspeople traveling out of Japan. But during a recent EBC organised event at the EU-Japan Centre for Industrial Cooperation it was announced that the "gaijin tax" will soon be no more. It was just one of a raft of changes to the law explained to attendees by Hiroaki Matsuno, a deputy director at the Ministry of Justice.
The government plans to bring the revised regulations into force by July 2012 at the latest, and the Ministry of Justice is already busy at work on the details. Matsuno, who took up his current post a few months ago, has been working till midnight almost every day, he said.
The biggest change is that, rather than two tiers – immigration bureau for visas and local ward or city office for alien registration cards – everything will now be handled by the Ministry of Justice. For the first time, mid- to long-term foreign residents will come under the juminhyo (residence registry) system; good news for legal foreigners, but bad news for illegals who will not be able to receive the replacement for the current alien registration card – or services such as government healthcare.
In principle the new "residence card", which will basically replace the "status of residence" stamp in passports, will be issued at the airport at the time of landing. "But we can't afford to place machines at all of Japan's airports," stressed Matsuno. (Japan currently has over 80 airports). For those arriving in the boondocks, the card will be sent by post.
For some changes to details on the card, say a change in employer, reporting to the immigration bureau will be required by law. The ministry is investigating the use of proxies, said Matsuno, but has not yet made a decision. The ministry is also considering allowing notification by post or through the internet.
Hopefully, the changes will reduce work for the immigration bureau and shorten queues in their offices (a relief for those who have run the gauntlet of the Shinagawa bureau). "We have been very sorry to keep people waiting," said Matsuno. Most visa categories will be extended from three to five years, and the residence card will expire after the same period. There will also be a change in the re-entry permit. Mid- to long-term foreign residents will now be exempt from needing a re-entry permit as long as they re-enter Japan within 12 months. (The re-entry permit system will remain for other cases.)
Without re-entry permit income, currently ¥6,000 for multiple re-entry, the changes are likely to lighten the government's coffers. "This is a huge reduction in our revenue," said Matsuno. "The Ministry of Finance is angry."
Rest of the article at
http://www.eurobiz.jp/content/2010/august/columns/event-report