mytest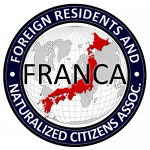 UPDATES ON TWITTER: arudoudebito
DEBITO.ORG PODCASTS on iTunes, subscribe free
Hi Blog.  In probably one of the most important developments of the year (thanks again to the Japan Times Community Page, consistently offering one great expose after another), we have actual substantiation of the Tokyo Police extending their racial profiling techniques to target Muslim residents of Japan.  Not only are they spying on them and keeping detailed files, they are trying to turn them against one another as if they're all in cahoots to foment terrorism.
We all suspected as such (the very day I naturalized, I got a personal visit from Japan's Secret Police asking me to inform on any Chinese overstayers I might happen to know; they said they read Debito.org — perhaps as assiduously as some of my Internet stalkers).  Now we have proof of it.  Shame, shame on a police force that has this much unchecked power.  Do I smell a return to Kenpeitai tactics?  Arudou Debito
///////////////////////////////////////////////////
The Japan Times Tuesday, Nov. 9, 2010
THE ZEIT GIST
Muslims in shock over police 'terror' leak
Japan residents named in documents want explanation — and apology — from Tokyo police force
By DAVID McNEILL
This time last month, Mohamed Salmi says he was just another anonymous foreigner living and working in Japan. Today he fears his life here may be over, and receives phone calls from reporters asking him if he is an al-Qaida "terrorist."
"I've no idea why they have picked on me," says the Algerian, who has lived and worked in Japan for over 20 years and is married to a Japanese national. "My wife and I are still struggling to believe it."
Salmi's name was one of several released in extraordinary leaked documents from a counterterrorism unit of the Tokyo Metropolitan Police Department's Public Security Bureau. Listed as "terrorist suspects," the men are Muslims who live and work here, in many cases for decades.
The documents, which have been obtained by The Japan Times, contain vast amounts of personal information, including birthplaces, home and work addresses, names and birthdays of spouses, children and associates, personal histories and immigration records. Even the names of local mosques visited by the "suspects" are included.
In most cases, the causes of the initial police suspicion appear to have simple explanations. Salmi's former work as a travel agent placed him in contact with Arab students, businessmen and diplomats.
"I had a lot of ambassadors as clients," says the 47-year-old, who now works for a Japanese construction company. "I can't believe this is enough to put me on a list of suspects."
Apparently released via file-sharing software, the files and the background on how they were compiled reveal that Japanese police, under pressure from U.S. authorities, trawled Tokyo in the aftermath of Sept. 11, 2001, in search of intelligence data among the city's tiny Muslim community. According to victims of the leak, in some cases the Security Bureau tried to recruit them as spies…
Rest of the article at
http://search.japantimes.co.jp/cgi-bin/fl20101109zg.html