mytest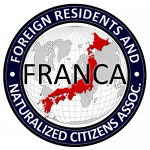 UPDATES ON TWITTER: arudoudebito
DEBITO.ORG PODCASTS on iTunes, subscribe free
In this podcast:
Japan Times JUST BE CAUSE Column 18, "Unlike Humans, Swine Flu is Indiscriminate", on the the lessons to be learned from Japan's public panic due to the Swine Flu Pandemic, and how to avoid discrimination arising from it (August 4, 2009)
Japan Times ZEIT GIST Community Page Article 51/JUST BE CAUSE Column 19, " McDonald's Japan's "Mr James" campaign: Why these stereotyping advertisements should be discontinued". (September 1, 2009)
Plus interim excerpts from Tangerine Dream "White Eagle" and an excerpt of another song from Duran Duran's most recent album, "All You Need is Now". Title: "Being Followed".
22 minutes.  Enjoy!
[display_podcast]