mytest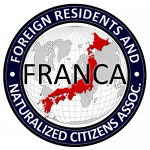 UPDATES ON TWITTER: arudoudebito
DEBITO.ORG PODCASTS on iTunes, subscribe free
Hi Blog.  This is just to tell you that I will be vacationing Debito.org until April 2011, so that I can concentrate on writing my next book.
Sorry about this, but the Blog takes about an hour or more out of my day every day and as such is a major time bandit.  Same with reading and approving every comment.  So let me just say ja shitakke ne for a little while.
I will of course still put up podcasts and my Japan Times JUST BE CAUSE columns the day after they come out.  But comments and the like will take a while to approved, as will answers to emails to me directly.
Please be patient.  As always, thanks for reading and commenting to Debito.org.  See you again in April.  Arudou Debito