mytest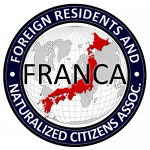 UPDATES ON TWITTER: arudoudebito
DEBITO.ORG PODCASTS on iTunes, subscribe free
Hi Blog. Let's now start looking at some aspects of what appears to be a Post 3-11 Backlash against NJ. Let's start with the Tokyo Governor's Election, due April 10.
We already have one overtly racist incumbent, Ishihara Shintaro, whom I've heard is alas the favorite to win, again. But also on the bill is this noticeably nasty candidate Furukawa Keigo, who advocates by his very slogan the expulsion of foreigners from his jurisdictions (pedants might counter that he's only referring to Chinese and Koreans, but a) that doesn't make it any better, and b) you think he's only stopping there?).
Here's Furukawa's public campaign announcement, put in every Tokyoite's mailbox through public monies:
Furukawa's Campaign Video here:
http://tokyo2011.cswiki.jp/index.php?古川圭吾
His profile page:
http://profile.ameba.jp/yasukuni-de-aou/
Platform (from Campaign Video page, translation courtesy MS):
Safeguard the capital. Safeguard Japan. Japan belongs to the Japanese people.
Now more than ever, we should resolutely expel the foreign barbarians
Eject foreigners from Tokyo.
(By foreigners, I mean mainly Chinese (the pejorative "Shinajin" used for this) and north and south Koreans. In other words, the foreigners who are thought to be causing harm to Japan.)
1. Change the law so that foreigners cannot purchase land in Tokyo-to.
2. Absolutely opposed to voting rights for foreigners!!
3. Ban the the use of officially recognized Japanese aliases used by so-called "Zainichi" Koreans.
4. Make conversion of pachinko shop premiums into cash illegal
5. Do not relocate the Tsukiji fish market
6. Permit opening of casinos in Toyosu
7. Continue with tuition-free high schooling. Abolish the school district system.
8. No need for Tokyo to host the Olympic Games
9. Merge Tokyo's two subway corporations. Run the trains round the clock.
10. Revize Metropolitan Tokyo's Ordinance No. 128 (law controlling public morals)
11. Provide more public housing
12. Revise construction safety regulations in Tokyo.
首都を守る。日本を守る。日本国は日本人のものです。
今まさに、攘夷を決行すべきである。
東京から外国人排除する。
【外国人といっても主に支那人、南北朝鮮人。つまり日本国に害を及ぼすと思われる外国人。】
1.東京都の土地を、外国人は買えないように法整備をする。
2.外国人参政権 絶対反対!!
3.所謂『在日』の通名の使用禁止
4.パチンコ店の景品換金禁止
5.築地市場は移転しない
6.豊洲にカジノを
7.高校無償化継続。学区制の廃止。
8.東京オリンピックはいらない
9.東京メトロと都営地下鉄の合併。そして24時間運行
10.都条例第128号(風俗営業等の規制及び業務の適正化等に関する法律施行条例)の見直し
11.都営住宅の充実化
12.東京都建築安全条例の見直し
COMMENT:  Although diverse elections will always contain crank candidates (after all, they have to represent their portion of the crank public), a question to be raised is what kind of people (and electoral system) would allow a campaign advocating the expulsion of taxpayers who have lived here for generations? Submitter MS says poignantly, "I'm royally pissed at having my tax money used on a document published and distributed by Met Tokyo that bears a prominent advertisement by a right-wing wacko candidate that advocates my expulsion."
MS provides the mailing address of the office that oversees the gubernatorial election, FYI.
Secretariat to Election Administration Commission
(Senkyo Kanri Iinkai Jimukyoku)
39th Floor, Tokyo Metropolitan Government Building No. 1
8-1, Nishi Shinjuku 2-chome
Shinjuku-ku, Tokyo 163-8001
This issue is admittedly a bit tangental; these campaign stumps were probably written and submitted before 3-11, so they are but riding sentiments that were already lying latent before they could surf the current wave of public opinion. How well Furukawa does on April 10 is quite possibly a bellwether of how sentiment is turning anti-NJ (or not) in the face of the "Fly-Jin" or "Bye-Jin" pejoratives.
More on how the J media has been bashing NJ as pseudo-deserters tomorrow. Arudou Debito