mytest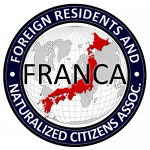 UPDATES ON TWITTER: arudoudebito
DEBITO.ORG PODCASTS on iTunes, subscribe free
Hi Blog. Debito.org is pleased to announce another Official(TM) Japan Open Season on NJ. We get these fads occasionally, like "NJ have AIDS" (1986), "NJ have SARS" (2003), "NJ are criminals" (2000-4).
Now, with the advent of "Fly-jin" (or the variant "Bye-jin" — which is better, some might retort, than being "Die-jin"), it's now "NJ are deserters". And they can be conveniently blamed for various social ills. Here, I'll anticipate a couple:
1) "Fly-jin" are responsible for Japan's lack of English ability because they fled their posts as English teachers. (Not so far-fetched, since they have been blamed in the past for the same thing because conversely "NJ have been in Japan too long")…
2) "Fly-jin" are responsible for our fruits and vegetables becoming more expensive, since NJ "Trainees" deserted their posts as slaves on Japanese farms and left things rotting on the vine…
3) "Fly-jin" are responsible for a further decrease in Japan's population, since some of them took Japanese citizens with them when they deserted Japan…
4) "Fly-jin" are responsible for a downtick in Japan's shipping industry, since NJ accounted for 90% of Japan's maritime crews…
5) "Fly-jin" are responsible for diplomatic snafus, since our NJ proofreaders at national government agencies did a runner…
(Here, here's what NJ have been blamed for in the past. Join in on the game.)
Okay, that's still fiction.  But who says people in Japan aren't creative? I never anticipated NJ being blamed for the closure of Tokyo Disneyland, as the Tokyo Sports Shinbun does on April 14, 2011:

Courtesy MS
No, it's not due to power outages or rolling blackouts or the need to save power to show solidarity with the Tohoku victims or anything like that.  They have to have NJ faces as dancers and people in parades, therefore no parade, no Tokyo Disneyland.  We're closed, and it's your fault, NJ.  Makes perfect sense, right?
Enjoy the Open Season on you, NJ, while it lasts.  I anticipate it'll dissipate with the radiation levels someday.  Arudou Debito