mytest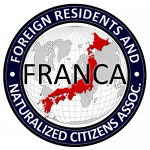 UPDATES ON TWITTER: arudoudebito
DEBITO.ORG PODCASTS on iTunes, subscribe free
Hi Blog.  In addition to my latest Japan Times JUST BE CAUSE column (out today, read it here), I am very happy to announce that my latest book, "IN APPROPRIATE: A novel of culture, kidnapping and revenge in modern Japan", is now available for purchase at Amazon.com and Barnes & Noble.
Buy from Amazon by clicking this link. Or buy from Barnes and Noble by clicking this link.
FYI.  Thanks as always for reading.  Arudou Debito, speaking at Doshisha University law school this evening.