mytest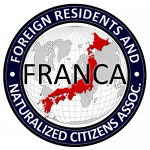 UPDATES ON TWITTER: arudoudebito
DEBITO.ORG PODCASTS on iTunes, subscribe free
Hi Blog. I have a real rib-tickler for you today. Here we have an academic employed at UC Berkeley trying to squeeze flawed data into an already flawed paradigm — not just that of "gaijin" [sic], but also of "flyjin" — as she goes around Tokyo counting NJ as if they were rare birds (or, rather, rarer birds, according to her presumptions under the rubric).
I raise this on Debito.org because it's amazing how stupid concepts from Planet Japan somehow manage to entice apparently educated people elsewhere to follow suit, and… I'll just stop commenting and let you read the rest. Courtesy of H-Japan's online archives, accessible to the general public.  Arudou Debito
//////////////////////////////////////////////
Courtesy http://h-net.msu.edu/cgi-bin/logbrowse.pl?trx=vx&list=H-Japan&month=1106&week=c&msg=ZlvuE6%2bnxMsSGrzDqLzQvA&user=&pw=
From: H-Japan Editor
List Editor: H-Japan Editor
Editor's Subject: H-JAPAN (E): The Great Fukushima Panic of 2011 / empirical evidence on "flyjin"
Author's Subject: H-JAPAN (E): The Great Fukushima Panic of 2011 / empirical evidence on "flyjin"
Date Written: Sun, 19 Jun 2011 18:19:01 -0400
Date Posted: Mon, 19 Jun 2011 18:19:01 -0400
On-line editor: Janet R. Goodwin
H-JAPAN (E)
June 19, 2011
From: Dana Buntrock
For those of you who have not yet returned to Japan since 3/11, it may be helpful to understand how significant the absence of "gaijin" is in the capital, a point noted more than once on this list.
I am using the term "gaijin" here to refer to racially differentiated (non-Asian) individuals, including those who appear to be from the Indian subcontinent. If mixed-race children were with a non-Asian parent, I counted them. I also counted one woman in a version of the headscarf worn by Moslem women, seen from behind, and her child (in a stroller), because the attire was clearly non-Japanese in nature. That is, I tended to err on the side of counting individuals as being foreign.
I did a casual count Friday, June 17 through Sunday, June 19. The first two days, I went about normal activity, but the last day, I confess, I deliberately went to a tourist spot. I included those seen within my hotel, a nice business hotel that maintains a reservations web site in English and often has foreign guests.
___
Friday count: 22. (8 a.m.-7:30 p.m.) I went through 9 subway stations:
Akasaka, Meijijungumae, KitaSando, Shinjuku (Oedo at Minami Shinjuku), Aoyama Itchome, Gaienmae, Akasaka-Mitsuke to Nagatacho, and Kojimachi. I walked at least 6 kilometers: from my hotel to the first station (.6 km), from Kita Sando west for 1.2 km, from there to several floors, including the 6th, of the Kinokuniya Bookstore in Minami Shinjuku (1.8 km), from Aoyama Itchome to Gaienmae (.7 km) and from Kojimachi back to the Akasaka area (1.6 if done efficiently, which I did not).
—-
Saturday count: 135. About 15 under 5 years old.
I went through Roppongi twice, Hiro once, and Midtown twice. I went through three crowded shopping areas–Ebisu, Midtown, and Roppongi HIlls, plus the Photography Museum. I went to National Azabu (upstairs) on a Saturday.
I was out 8 and a half hours, and I went through Roppongi Station (10:30 a.m.), Ebisu (subway) Station, and HIro Station. I walked 1.5 km around Ebisu, and from Hiro to Roppongi HIlls (another 1.5 km) to Gallery Ma (another 1.5 km) to Midtown (600 meters) and back to the hotel (1 km). About 6 kilometers.
—-
Sunday count: 60. I counted 13 women; 4 were children.
Out at 9 a.m., walked from Akasaka to near the foot of Tokyo Tower via Ark Hills (1.9 km), continued on to Daimon Station, boarded a monorail to Tenozu Isle (1.5 km), Walked a very short distance from there, then boarded a cab back to Akasaka. Afterward, walked to Kasumigaseki (2 km), continued to the Imperial Palace Gardens (3 km), walked from there to Otemachi Stn (1.5), direct line back to Akasaka, and back to hotel (.5 km) about 6:30 p.m.
21 men and 8 women were seen in the area of the Imperial Palace, including joggers and apparent tourists. (Note: I attended an English-language church service, but did not count the congregants. There were about 45 people in the church, and between half and two-thirds were non-Asian. The church would normally have at least 50% more congregants, and often double.)
Walked about 10.5 km, was in three not-particularly-busy subway stations, but lingered around the Imperial Palace.
_______________________
DANA BUNTROCK
Associate Professor
Department of Architecture
University of California, Berkeley
//////////////////////////////////////////////////
SOME RESPONSES
Courtesy http://h-net.msu.edu/cgi-bin/logbrowse.pl?trx=vx&list=H-Japan&month=1106&week=c&msg=9NxPdJQedAvmyzo4ZXFdhA&user=&pw=
From: H-Japan Editor
List Editor: H-Japan Editor
Editor's Subject: H-JAPAN (E): The Great Fukushima Panic of 2011 (2 responses)
Author's Subject: H-JAPAN (E): The Great Fukushima Panic of 2011 (2 responses)
Date Written: Mon, 20 Jun 2011 22:18:52 -0400
Date Posted: Tue, 20 Jun 2011 22:18:52 -0400
On-line editor: Janet R. Goodwin
H-JAPAN (E)
June 20, 2011
(1) From: Georg Blind
Re: empirical evidence on "flyjin" vs. "fryjin"; ample statistics available
This is both a response to an earlier question on this list, and a comment to Dana Buntrock's post.
Concise entry and departure statistics are available from Ministry of Justice:
http://www.moj.go.jp/housei/toukei/toukei_ichiran_nyukan.html
The latest available tables are for March 2011. Total "gaijin" departures were about 1% down from March 2010. In contrast, US citizens were down about 20%; citizens of European countries about 5%.
As soon as available, April data will show the full extent of the exodus if corrected for overall fluctuation (e.g., from a comparison of February to April changes in 2010).
While interesting as an individual observation, Dana Buntrock's gaijin counts, are methodologically highly questionable. The following – not too serious example – might illustrate this: let's define "fryjin" as foreigners working in Japanese KFC restaurants. Let's assume one would count fryjin presence in 10 different locations in Tokyo. Would that yield a reliable picture of the "fryjin" situation? 1. The mere count of "fryjin" would need to be compared to the number of Japanese staff. – How many Japanese did Dana Buntrock count during her survey? 2. How many "fryjin" were there one year ago; i.e., was there a change in the number of "fryjin"? – And putting 1. and 2. together, was there some change in the share of "fryjin"? 3. Are observations at Tokyo KFC restaurants representative for the whole country? In that sense, the church example is by far more telling than the street counts.
Best, Georg
____________________________
Georg Blind
Research Fellow and Lecturer
The University of Zurich
Institute of East Asian Studies
8032 Zurich
Switzerland
(2) From: Cecilia
With respect, I am not sure how constructive it is to be adopting the term "flyjin". Though the term may appear to be cute and clever, in reality in the Kanto area in particular it is a loaded word that in some circles has become derisive and abusive. The term flyjin trivialises the reality that there is an evacuation zone in place and that there is a serious radiation problem – the extent of which is still not clearly determined. It also fails to consider that people who left were in many cases acting on embassy advice or company instructions. I have been in Tokyo since the earthquake, except for a Golden Week sojourn in Tohoku, with no thought of leaving but have been dismayed at the macho vitriol around who stayed and who left. It's disappointing to see the term being picked up unproblematised in academic circles.
A spot count of conspicuous foreigners on the streets of Tokyo tells nothing about the numbers of people who have left Tokyo. In particular it ignores a distinction between residents (short and long term) and tourists. It also ignores the fact that most foreigners (both resident and tourists) are Asian. A spot count that has no control, defines foreigners in racial terms (which probably labels Chinese, Korean, Taiwanese, Singaporeans and many other SE Asians as Japanese) and conflates people that have actively left with people that decided not come, is meaningless. For the dip (plunge) in foreign visitor numbers the Ministry of Justice data is much more useful. http://www.tourism.jp/english/statistics/inbound.php
Cecilia Fujishima
Tokyo
————————————————————————
OKAY, ONE MORE COMMENT FROM DEBITO:  Bravo Ms. Fujishima.  It's also disappointing to see the racial term "gaijin" thusly being picked up unproblematized in academic circles, but that's a long-standing terminology that people just seem to laugh off as grounded in general use.  But see how it feeds into a general idiocracy and flawed paradigms vis-a-vis scholarship on Japan?  D.
ENDS