Posted by Dr. ARUDOU, Debito on May 3rd, 2012
Books etc. by ARUDOU Debito (click on icon):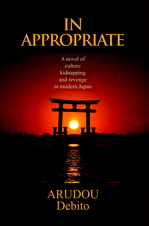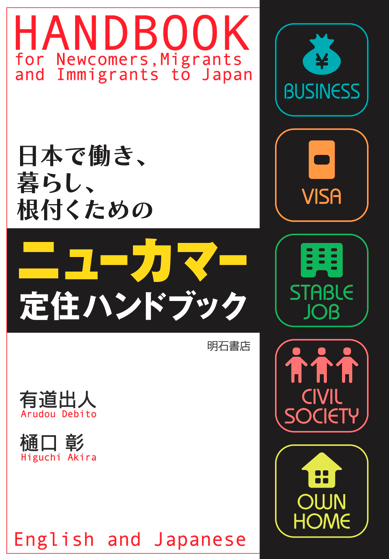 UPDATES ON TWITTER: arudoudebito
DEBITO.ORG PODCASTS on iTunes, subscribe free
UPDATED MAY 12, 2012
Hi Blog.  Before I get to the text of this column, I just want to say thank you to the readership for making IT probably my most read and most positively-received.
It stayed for well over a week within the Top Ten Most Read Articles on the Japan Times Online (almost every day in and out of the #1 spot), and garnered more than 4300 Facebook "Likes", a personal record for me.  I wonder if it is for the JT too.  It also occasioned a JT Poll, which received more than 6000 responses (well over double the usual number), with nearly half saying "I've got a point":
A piece of your mind: Gaijin and 'micro-aggressions' 
Debito Arudou's column this week denounced rote questions aimed at gaijin [sic] as "micro-aggressions." What do you think?
Options:
He's got a point. Those little things wear you down.

Annoying, yes, but real communication can come later.

It's not a big deal. People are just naturally curious about non-Japanese.

It's beyond annoying. I find it very offensive.
Well, I didn't want to take hits away from the JT while it was still trending, so until this update I just had a link to the column there and approved comments in real time below.  Now I'll attach the text with links to sources.
Again, I want to thank everyone for their reading, commenting, and support.  I really appreciate it.  I hope to do columns that resonate as much in future.  Arudou Debito
//////////////////////////////////////////
The Japan Times Tuesday, May 1, 2012
JUST BE CAUSE
Yes, I can use chopsticks: the everyday 'microaggressions' that grind us down
By ARUDOU, Debito
Column 51 for the Japan Times Community Page, version with links to sources.
Courtesy http://www.japantimes.co.jp/text/fl20120501ad.html
Have you ever noticed how many interpersonal interactions in Japan are like "speed dates" of set questions?
For example, the taxi drivers who have the odd fascination about where you're from, whether you're married, how much you like Japan, and how hard you think the Japanese language is?
The barkeeps and clientele who try to slot you into their hackneyed preconceptions of some country and nationality, what you can and cannot eat, and (as things get drunker) how much you enjoy having physical liaisons with Japanese?
The neighbors who have a white-hot curiosity about how differently you raise your kids, what you fight with your spouse about, and how much you like Japan — regardless of how many years you've been interacting?
In the beginning, these were dismissible as just acts of awkward friendliness by people who didn't know how else to approach you. It at least made you really good in certain areas of Japanese conversation.
But after years of repeat games, boredom sets in, and you begin to realize two things: 1) that you can sleepwalk through most conversations, and 2) that, if you stay awake, you see there is a larger issue at play here: social control — something increasingly recognized by social psychologists as "microaggressions."
Microagressions, particularly those of a racialized nature, are, according to Dr. Derald Wing Sue in Psychology Today (Oct. 5, 2010), "the brief and everyday slights, insults, indignities, and denigrating messages sent to (visible minorities) by well-intentioned (members of an ethnic majority in a society) who are unaware of the hidden messages being communicated."
They include, in Japan's case, verbal cues (such as "You speak such good Japanese!" — after saying only a sentence or two — or "How long will you be in Japan?" regardless of whether a non-Japanese (NJ) might have lived the preponderance of their life here), nonverbal cues (people espying NJ and clutching their purse more tightly, or leaving the only empty train seat next to them), or environmental cues (media caricatures of NJ with exaggerated noses or excessive skin coloration, McDonald's "Mr. James" mascot (JBC, Sept. 1, 2009)).
Usually these are unconscious acts grounded in established discourses of interactions. Nobody "means" to make you feel alienated, different, out of place, or stereotyped.
But microaggressions are also subtle societal self-enforcement mechanisms to put people "in their place." For NJ, that "place" is usually the submissive status of "visitor" or "guest," with the Japanese questioner assuming the dominant position of "host" or "cultural representative of all Japan."
It's a powerful analytical tool. Now we have a word to describe why it gets discomfiting when people keep asking if you can use chopsticks (the assumption being that manual dexterity is linked to phenotype), or if you can eat nattō (same with taste buds), or if you'll be going "home" soon (meaning Japan is just a temporary stop in your life and you don't belong here). It can even help you realize why it's so difficult for the NJ long-termer to become a senpai in the workplace (since NJ subordination is so constant and renewed in daily interaction that it becomes normalized).
Now let's consider microaggression's effects. Dr. Sue's research suggests that subtle "microinsults and microinvalidations are potentially more harmful (than overt, conscious acts of racism) because of their invisibility, which puts (visible minorities) in a psychological bind."
For example, indicate that you dislike being treated this way and the aggressor will be confused; after all, the latter meant no harm, so therefore the NJ must just be overly "sensitive" — and therefore also "troublesome" to deal with. Resistance is not futile; it is in fact counterproductive.
Yet do nothing and research suggests that "aggressees" become psychologically drained over time by having to constantly question the validity of their position and devote energy to dealing with this normalized (and after a while, predictable) "othering" that nobody else (except — shudder — the alienated NJ barflies) seems to understand.
So in come the coping strategies. Some long-termers cultivate a circle of close friends (hopefully Japanese, but rarely so: JBC, Aug. 2, 2011), others just become hermits and keep to themselves. But those are temporary solutions. Sooner or later you have to take a taxi, deal with a restaurateur, have words with your neighbors.
And then, like it does for the hikikomori (the "shut-ins," who are also victims of other strains of microaggression), you begin to dread interacting with the outside world.
Therein lies the rub: Microaggressions have such power because they are invisible, the result of hegemonic social shorthand that sees people only at face value. But your being unable to protest them without coming off as paranoid means that the aggressor will never see that what they say might be taken as prejudiced or discriminatory.
The power of microaggression is perhaps a reason why activists like me occasion such venomous and obsessive criticism, even online stalkers.
I happen to fight the "big fights" (such as "Japanese Only" signs and rules, official propaganda about foreign crime). But I also fight microaggressions (the racist word "gaijin," the oddly destructive platitude of "ganbatte," the effects of NJ being addressed by name without a "san" attached), because after decades of experience I know where they lead to: perpetual subordinate status.
Alas, my actions to stem or deter this just make me look alarmist, reactionary and paranoid in the eyes of the critics (especially the NJ ones, who seem to think I'm somehow "spoiling" Japan for them), either because they haven't experienced these microaggressions for themselves, or because they live in denial.
"Know how to pick your battles," some decry. Fortunately, the battle is partially won, because now this dynamic of low-level aggression and "othering" is less invisible. We finally have a word in the English language (hopefully someday in Japanese too) to identify it, and social scientists endeavoring to quantify it.
Someday we just might be able to empower ourselves away from our own microaggressive self-policing of preconception and prejudice. And we will gain the appropriate respect for those brave enough to stand up to it. And at least the daily questions might become less boring!
===========================
Arudou Debito has written the Hokkaido section for the 20th edition of Fodor's Japan guidebook, which is out now. Twitter @arudoudebito. Just Be Cause appears on the first Community pages of the month. Send comments on this issue and story ideas to community@japantimes.co.jp
ENDS