Posted by Dr. ARUDOU, Debito on May 23rd, 2012
Books etc. by ARUDOU Debito (click on icon):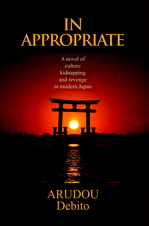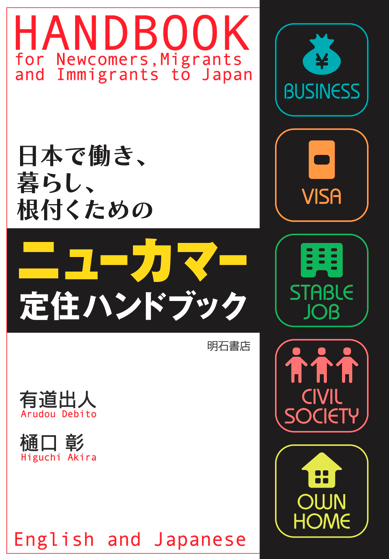 UPDATES ON TWITTER: arudoudebito
DEBITO.ORG PODCASTS on iTunes, subscribe free
Hi Blog. Here we have the Wall Street Journal up to its old tricks: Representing the "Expat" community's attitudes towards Japan, doing "Japan Real Time" research that is essentially navel-gazing about Japan from a skyscraper window (or a computer screen, as it were).
Even though the reporter, Sarah Berlow, parrots much of the net-researched stuff (courtesy of the GOJ, sharing the same blinkered viewpoint of life in Japan for NJ residents) accurately, check this bit out:
"New residents will instead be given a "residence card" similar to the ones Japanese citizens carry, except for a special marking designating the holder's nationality."

Err… wrong. Japanese citizens have no residence cards to carry, as we've discussed here on Debito.org for years. This fact has long seeped into the consciousness of people who ACTUALLY live here, as one of the WSJ commenters duly notes:
There is no such residence card for Japanese nationals. Japanese citizens usually use drivers licences, health insurance cards or passports for ID if necessary. They most certainly are not issued with these or similar residency-based cards currently, I am aware of no plans to do so, and there is no compulsory carrying of ID required for Japanese citizens (except to enter an airport). The previous system required non-Japanese to carry a credit card-sized ID card at all times (subject to penalty if not carried) and will still do so. Japanese citizens do not have to carry ID and will still not be required to do so.
Source for comments relating to requirements for resident non-Japanese :
http://www.immi-moj.go.jp/english/newimmiact/q_a_details1_english.html , especially under Q1-9
And how about this: "These new changes come as the government attempts to increase this number [of foreigners entering Japan], to an "era of 25 million foreign visitors to Japan" by 2020, a goal established in 2011."
Err… foreign tourists never had to carry Gaijin Cards in the first place (only people who had to register with residency visas of three months and up), so these changes have no connection and will have no effect. Does Ms. Berlow even have a residency visa in Japan so she might know about this from personal experience?  If not, there are whole books on this, ones so easy even the busy-getting-rich-off-their-Expat-packages-and-enjoying-their-Expat-Bubble-Enclaves Expats can read them (cf. HANDBOOK FOR NEWCOMERS, MIGRANTS, AND IMMIGRANTS), so bone up.
And there is no mention of the RIFD Gaijin Card Chipping for the new "Gaijin Residency Cards" only, something I've made a fuss about in the past.  Ms. Berlow uses the word "track" in regards to NJ within the article, which is appropriate, for reasons she probably didn't research enough to anticipate.  RFID enables remote tracking of people's credit card numbers, to begin with.
http://www.businessinsider.com/watch-this-is-how-easy-it-is-for-thieves-to-steal-everything-in-your-wallet-2012-5

And with technological advances, as I've argued before, it is only a matter of time and degree before it's capable at long distances — if it's not already. Don your tinfoil hats, but RFID technology is already being used in military drone guidance systems for long-distance precision targeting. You think the GOJ's going to abdicate its wet-dream ability to keep physical track of potential foreign "illegal overstayers", now that it has the ability to RFID chip every foreign resident from now on? Oh well, the "Expats" need not worry. They're not in Japan forever.
Finally, what's the reason I'm jumping on the WSJ so much?  Because, as I've said, they're up to their old tricks.  Don't forget, it was the WSJ who first broke (and legitimized in English and Japanese) the story about the fictitious "Flyjin" Phenomenon, setting the agenda to tar the NJ who left (or worse, stayed for the stigma).  Thus the WSJ's record of "spoiling things" for NJ in Japan is on par with what critics claim Debito.org does.  Sorry, we might not have their media reach or legitimacy, but at least we do better research here, for free.  That's a deal even a non-"Expat" can afford.  Arudou Debito
/////////////////////////////////////////////////////
The Wall Street Journal May 7, 2012, 3:57 PM JST
Expats Say Goodbye to Gaijin Card
JAPAN REAL TIME HOME PAGE
By Sarah Berlow Courtesy of TS
http://blogs.wsj.com/japanrealtime/2012/05/07/expats-say-goodbye-to-gaijin-card/
This summer marks the end of an era for foreigners residing in Japan. Starting July 9, the 60-year-old "certificate of alien registration" — the credit-card sized i.d. informally known as "the gaijin card" — will go the way of yakiimo carts, weekly Astroboy broadcasts, and uniformed men punching train tickets.
New residents will instead be given a "residence card" similar to the ones Japanese citizens carry, except for a special marking designating the holder's nationality. It's part of a series of amendments to Japanese immigration law designed to create a simpler system for the government, and a way for foreigners to feel, well, slightly less alien.
One main change: foreign residents and Japanese nationals can sign up with the government under the same resident registration system, rather than filing under separate categories, as currently required. That means foreigners generally can handle more of their bureaucratic needs only with their local municipal office, reducing the need to deal with immigration authorities. The new law is also designed to make life easier for Japanese with non-Japanese spouses. The entire family can be registered in one system, and the foreign spouse can be listed as the head of the family. Under current law, those families have to register under two different systems.
Another significant change: longer stay periods on certain visas. Some specialized workers, like engineers, can stay for up to five years instead of the current three; students can stay for up to four years and three months, up from the current maximum of two years and three months. Re-entry permits are being extended to five years from the current three years.
According to the Immigration Bureau of Japan, the new system will better track "the residency of foreign nationals residing in Japan for the mid-to long-term with resident status, and ensure greater convenience for those foreign nationals."
The "gaijin card" was first created in 1952, and for many years included the holder's fingerprint — a requirement that drew complaints from foreign residents who felt they were being treated as criminals. That feature was dropped by 1999.
The changes come as Japan faces a sharp drop in foreign residents, a trend prompted by the long recession, the reduction in financial jobs following the 2008 global financial crisis, and the rising cost of living due to the strong yen. Last year's quake, tsunami, and nuclear accident didn't do much to encourage foreigners to stay.
At the end of 2011, the number of registered foreigners in Japan had dropped by about 56,000 from 2010 to 2,078,480, the third consecutive decline, according to Japan's Ministry of Justice.
The number of foreigners who entered Japan 2011 was 7.1 million down 24.4% from 2010. These new changes come as the government attempts to increase this number, to an "era of 25 million foreign visitors to Japan" by 2020, a goal established in 2011.
Read this post in Japanese/日本語訳はこちら≫
WSJ 2012/5/8 14:56
外国人登録制度、7月9日に廃止へ 60年の歴史に幕
http://jp.wsj.com/japanrealtime/blog/archives/11055/
今夏、日本に居住する外国人にとって1つの時代が終了する。過去60年間在留外国人の身分証明書として使用されてきた「外国人登録証明書」が7月9日に廃止される。
これまでの外国人登録証明書に代わり、今後、入管法上の在留資格をもって日本に中長期間在留する外国人である中期在留者には「在留カード」が交付されることになる。日本国民に交付されるのと同じようなカードだが、所有者の国籍を示していることが異なる。政府にとってより単純な制度の創設と在留外国人に対するある種の配慮を目指す一連の入管法改正の一部。
大きな違いは、外国人居住者と日本国民が、現行で義務付けられた異なるカテゴリーではなく、同様の住民基本台帳制度の下で登録できるようになる。これにより、外国人居住者には一般的に、市区町村でできる手続きの範囲が拡大し、入国管理局とのやり取りが減少することになる。また、新しい在留管理制度の導入により、外国人と結婚している日本人にとっても利便性が高まる見込みだ。家族全員が1つの制度の下での手続きが可能になる上、外国人の配偶者も世帯主となり得る。現行法の下では、こうした家族は2つの異なる制度の下で登録する必要がある。
もう1つの著しい変更は、特定の査証に対する在留期間の延長だ。例えば、エンジニアといった一部の特別技能労働者は現行の3年から5年に、また学生は現行の2年3カ月から4年3カ月に在留期間が延長される。さらに、再入国許可についても、有効期間が現行の3年から5年に延ばされる。
法務省入国管理局は、新しい在留管理制度の導入により、「在留状況をこれまで以上に正確に把握できるようになる」とともに、「適法に在留する外国人の方々に対する利便性を向上する措置も可能になる」と説明している。
中長期在留者が所持する外国人登録証明書は1952年に導入され、長年にわたり、指紋押捺制度を伴うものだった。指紋押捺は1999年までに廃止された。
長期に及ぶリセッション(景気後退)や2008年の世界金融危機に伴う金融関連職の減少、円高による生活費の上昇などを背景に、日本の外国人居住者数は大幅減少に直面している。また、昨年の東日本大震災とそれに伴う福島第1原発事故の影響も考えられる。
法務省によると、2011年末時点での在留資格別外国人登録者総数は前年から約5万6000人減少し、207万8480人となった。減少は3年連続。
11年の訪日外国人数は710万人と、前年比24.4%減少した。一方、政府は訪日外国人を2020年までに2500万人に増加させるという目標を掲げている。
記者:Sarah Berlow
ENDS