Posted by Dr. ARUDOU, Debito on July 23rd, 2012
Books etc. by ARUDOU Debito (click on icon):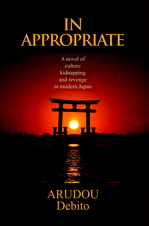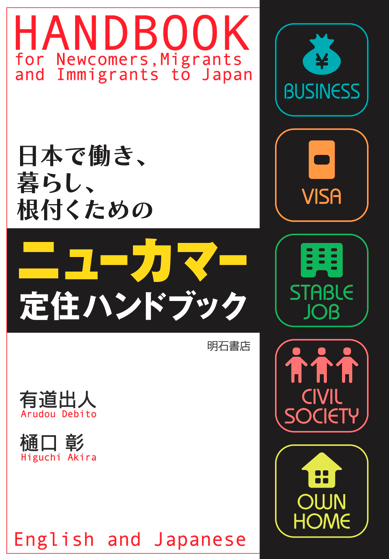 UPDATES ON TWITTER: arudoudebito
DEBITO.ORG PODCASTS on iTunes, subscribe free
Hi Blog.  In light of how NJ nurses under a national visa program have been treated in the face of a chronic careworkers shortage, here we have a case where even local sponsorship of a NJ doctor is also viewed (according to the Yomiuri, which may indeed in the interest of "balance" be conjuring up a tempest in a teapot) with suspicion because she is a foreigner.  After all, she might not stay!  Then again, so might not anyone else being trained on that scholarship program regardless of nationality.  Ah, but foreigners are different, you see.  They always represent a flight risk…  Anyhoo, good news tainted with an editorial bias of caution and trepidation just because the subject is NJ.  Arudou Debito
/////////////////////////////////////////
Town turns to Vietnam for future doctor
The Yomiuri Shimbun (Jun. 23, 2012), courtesy of JK
http://www.yomiuri.co.jp/dy/national/T120622004307.htm
ICHINOHE, Iwate — Facing a serious and chronic shortage of doctors, the town of Ichinohe felt it necessary to look overseas to find medical staff willing to live and work in the rural area.
The town plans to spend more than 10 million yen on school and living expenses for a Vietnamese woman on the condition that she will practice medicine in the town for at least seven years after obtaining her license.
The unusual plan raised eyebrows when the town ran it by the Health, Labor and Welfare Ministry, and some residents have questioned why the town is sponsoring a foreigner.
However, Ichinohe Mayor Akira Inaba believes the unprecedented plan is just what the town needs.
"The scholarship program for Japanese medical students hasn't attracted enough applicants to meet its quota," he said. "We have no other choice but to secure our doctors on our own."
The foreign student the town plans to sponsor is 18-year-old Luu Hong Ngoc, who will graduate this month from Vietnam National University's High School for the Gifted in Ho Chi Minh City. The school is one of Vietnam's most prestigious.
Inaba visited Ho Chi Minh City after a local sewing plant began accepting Vietnamese vocational trainees. Ngoc's grandmother served as the mayor's interpreter in Ho Chi Minh City, and told him that her granddaughter hoped to become a doctor overseas.
Inaba asked to see Ngoc's school transcript and requested other information about her. Her records showed her to be a qualified and enthusiastic student, and after receiving a letter of recommendation from Ngoc's school, the town decided to invite her to Japan.
Municipalities in Iwate Prefecture run a joint scholarship program to support medical students, which Ichinohe participates in. The scholarship provides each student with 200,000 yen a month and pays a lump sum of up to 7.6 million yen when the recipient enters medical school.
However, for several years the scholarship has failed to fill its quota. The program also provides no guarantee the recipient will work in Ichinohe after receiving a medical license.
These difficulties are what pushed the town to decide to independently fund Ngoc's medical education.
The entire process will take eight to 10 years and cost 10 million yen to 20 million yen. In return, the town will receive a pledge from Ngoc to work for at least seven years at the town's prefectural hospital.
The town plans to allocate funds for Ngoc's costs for this fiscal year in a supplementary budget to be submitted in September.
Inaba said Ngoc's grandmother, who learned Japanese in Moscow, is "Japan's No. 1 fan in Vietnam."
The town has heard that Ngoc is telling people she plans to study other subjects besides the specialized course to help her become a better doctor.
Ngoc is scheduled to come to Japan by the end of the year. In the spring, she will begin studying for the medical school entrance exam at a national university while learning Japanese at a vocational school in Morioka.
However, some residents and members of the town assembly have raised concerns about the plan, such as what would happen if Ngoc decided to return to Vietnam before finishing the course, or why the town is sponsoring a Vietnamese person in the first place.
The town government has said it will take steps so the money will have to be returned if Ngoc does not fulfill the work agreement, possibly through a contract.
Ichinohe, population 14,000, has a prefectural hospital and four internal medicine clinics, with a total of 18 full-time doctors.
However, many people must visit hospitals in Morioka, about 100 kilometers away, because local facilities lack obstetrics and outpatient ophthalmology departments.
"I hope what we do will draw attention to the lack of doctors in rural areas," Inaba said. "We'll keep looking for more talented young people in Vietnam."
ENDS